" NUProtein" Saving the World from Protein Crisis through Protein research
2023.05.25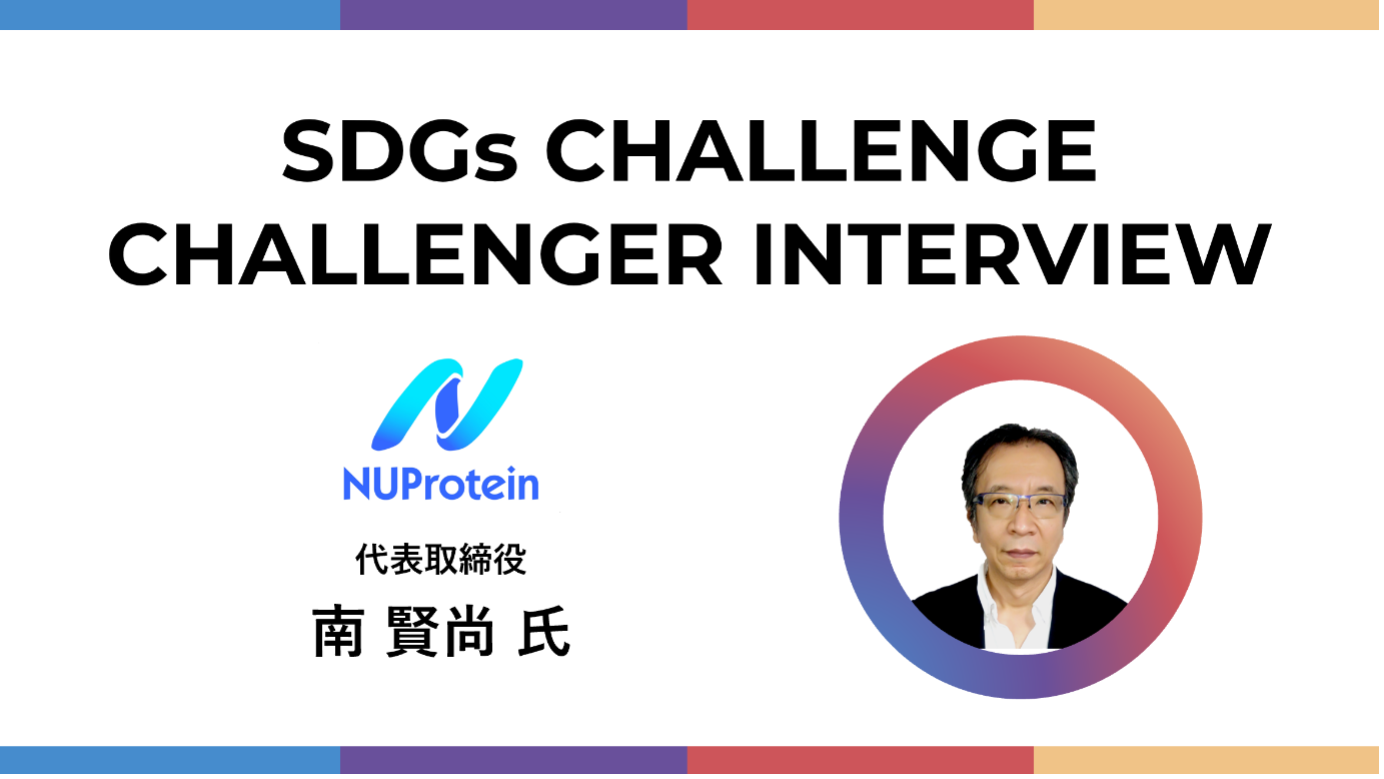 <Interviewee Profile>
NUProtein Corporation– Representative Director Mr. Yoshinao Minami

<Biography>
Born in 1961, Mr. Minami received a Master's degree in Business Administration and a Ph.D After joining Panasonic Corporation (formerly Matsushita Electric Industrial Co., Ltd.) in 1985, he worked on the standardization of SD cards and DVDs, and on corporate venture investment and incubation in the U.S. In January 2014, he became a specially appointed Professor at Nagoya University. After retiring from Nagoya University, he established NUProtein Inc., and became Representative Director.

This article is reprinted from Life-Tech KOBE.
SDGs Challenge – Since 2021, we support business development and overseas expansion of startups that take on the challenges of solving global-scale SDGs issues to create systems and products that create global social change pivoting from Hyogo Prefecture and Kobe City. The SDGs The "SDGs CHALLENGE" is a co-creation program that aims to solve global SDG issues. We will introduce the startups selected for this program one by one in the Stories category of this website.
<Service Introduction>
NUProtein is a company that provides functional proteins at extremely low cost using plants as starting materials. By synthesizing functional proteins using edible wheat germ and rice as source materials, which can then be used for cell culture, NUProtein aims to industrialize the cellular agriculture and fisheries industry, and thereby mitigate climate change and the protein crisis.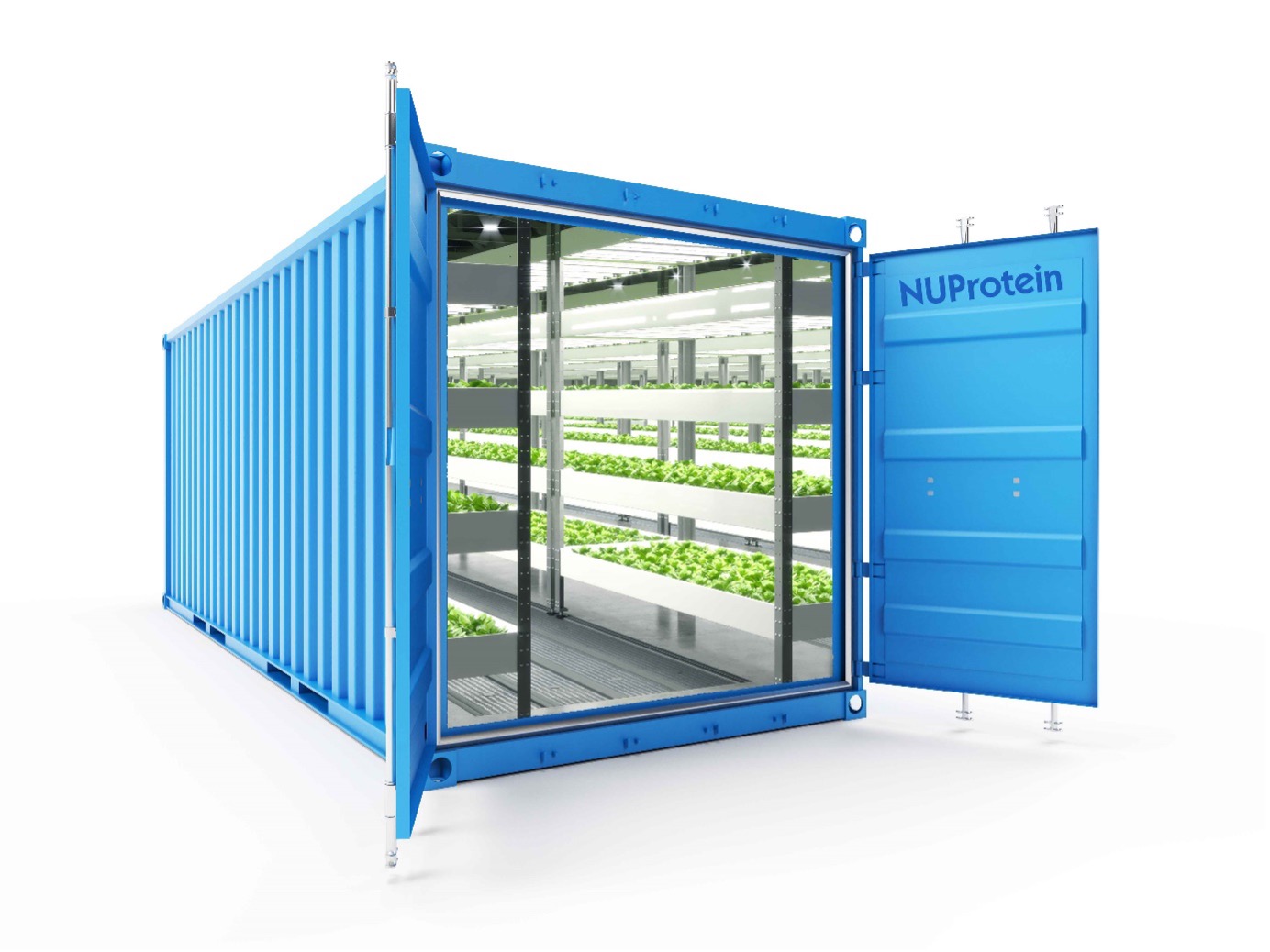 We owe it to our supporters for the continuation of this research
-Please tell us why you decided to join the SDGs Challenge.
Minami: We had our headquarters in Kobe Biomedical Innovation City (KBIC) and our laboratory in Tokushima until around mid-2020, when we decided to merge our headquarters and laboratory at the time of the coronavirus outbreak. So we moved our headquarters to Tokushima, where our laboratory is located. Despite the relocation of the headquarters to Tokushima, I work from my home in Hyogo Prefecture. This is why participating in the SDGs Challenge in Kobe was favorable for me. We are also in the process of providing cultured meat manufacturers with our products, and we have always said that we can contribute to "climate change" and the "protein crisis" through cultured meat. Thus participating in SDG-related program made sense as we are also thriving to solve SDGs issues. Furthermore, the cultured meat market is an area where we have to work internationally, as there is almost no market for cultured meat in Japan. Hearing that this program also supports market expansion abroad was a cherry on top.
-So it was a very a pretty big advantage for your company to get the support for overseas expansion.
Minami: Yes, it was. Since the business opportunities in Japan is quite limited, we always planned to expand abroad as soon as we had the "people" and "funds" prepared. We had been struggling to gather these two things, and we are very grateful that there is a program like this one which provides both. In the meantime, with support from JETRO, we recently secured a license agreement with a cultured seafood company in Singapore. We have realized that there are chances for business arrangements, which can lead to business deals even if we are located in Japan through supportive organizations like JETRO and the SDGs challenge of Hyogo prefecture. Of course, if the business develops further, there is a possibility that field support will be necessary and I will have to secure a physical office overseas. But the fact that an existing ecosystem that provides support from the preliminary stage, including the SDGs program, has been very helpful for entrepreneurs like me. I think it is very valuable for entrepreneurs like myself to have an ecosystem that supports us from the very beginning.
-So a business like NUProtein needs a diverse range of support.
Minami: Yes, we do. We can remain in business because of the support we receive in the form of subsidies from local and national governments, including the City of Kobe. The problem of the "protein crisis" is being discussed worldwide. Hence Protein is a key material for drug discovery and pharmaceutical manufacturers, and if there is a shortage of protein, they may not be able to produce medicines. If we factor this into our business, I believe that the market we are targeting is immense, and we must give back to those who have supported us from day one with the distribution of our products overseas and paving the way for growth. On the other hand, a problem that I am concerned about is that companies like ours that have received support from the government will go overseas and not give back the favor to the country.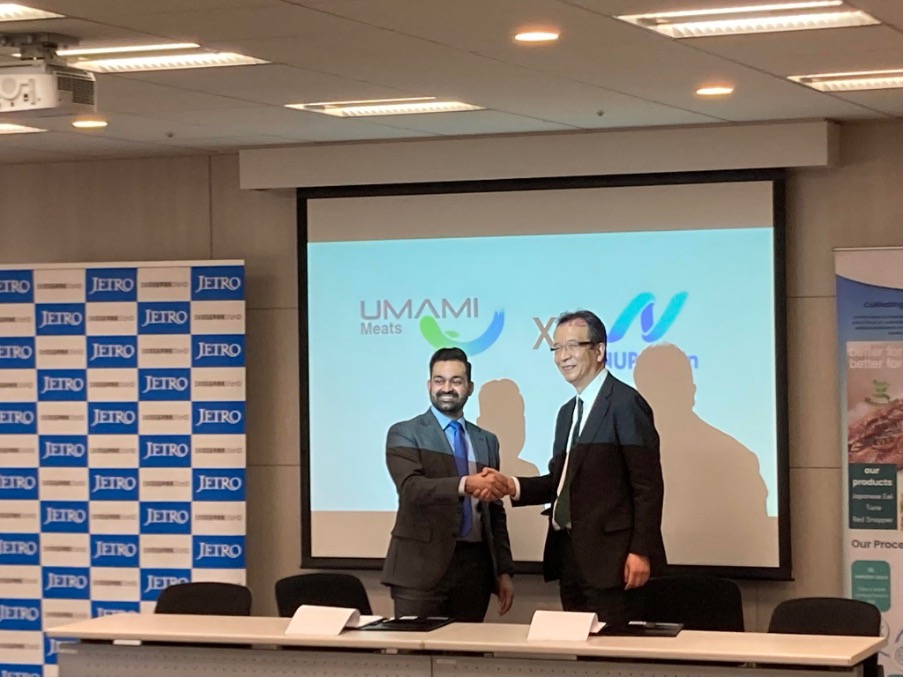 We want to challenge overseas, as a "Japanese" company
-Can you give us some details about the problems you  face?
Minami: As I mentioned earlier, a research-based business like ours is time and money consuming. Nevertheless, because it is time-taking to see the results, it is hard to attract people as well as investments. And those are not feasible without support from public institutions. Because of this situation, if, for example, an overseas company were to come up with support for our R&D, I am thinking that I must take all the chances and collaborate with them. Of course, our goal is to enrich the lives of people around the world, so we believe that we should be willing to work together with any company, domestic or foreign, that we can work with. However, I personally feel that it would be a shame for the government to invest in us, just for us to move abroad. I don't have a clear answer yet, but I am hoping to find a way to thrive domestically so that we can contribute to society.
-I see. So there are various problems to overcome.
Minami: Yes, there are. I mentioned earlier that protein is a key material for drug discovery and pharmaceutical manufacturers in the medical field, but major companies are hesitant to procure from start-ups because of the supply risk. Overseas, major companies are active in providing substantial financial support for research-stage products and embarking on joint development, and I hope to see more of such activities in Japan as they are rare here. On a side note, drug prices for innovative new drugs are set lower in Japan than abroad. So even when a company succeeds in developing a new drug, it may become bankrupt selling only in Japan because of insufficient profit. As a result, makes it difficult for research such as ours to be utilized domestically. Under such circumstances, the development of new drugs in Japan is not as progressive so research like ours is challenging to be utilized domestically. And this has led to a current system, where advanced technologies and research tend to move abroad to be successful and profitable. If we can somehow change this situation, even gradually, I believe that domestic companies will be able to become competitive against foreign companies.
-Given the complexity of the issues involved, what kind of solutions do you have in mind for the future?
Minami: Even though I have been talking plenty about medical-related issues, I think it will be a while before we can actually bring our research into that field. So my focus and current priority is to bring our research to a state where it can be utilized in the food sector. For our business to grow, human and financial resources are vital. So for that reason as well as others, we would like to partner with powerful and influential corporations. Then combine our research and organizational capabilities to create a system that can contribute even greater value to society. Also, as I mentioned earlier, the establishment of a new industry involves regulations, so we have begun discussions with the Ministry of Agriculture, Forestry, and Fisheries (MAFF) and other government agencies. We believe that it is just as important to have society recognize the value of our research as it is to establishing a successful business, so as a responsible company that has the capability, we intend to actively use technology to convey information and influence the public.