ZESST by Almatech – Real Zero-Emission alongside protecting the environment and restful ride
2023.05.21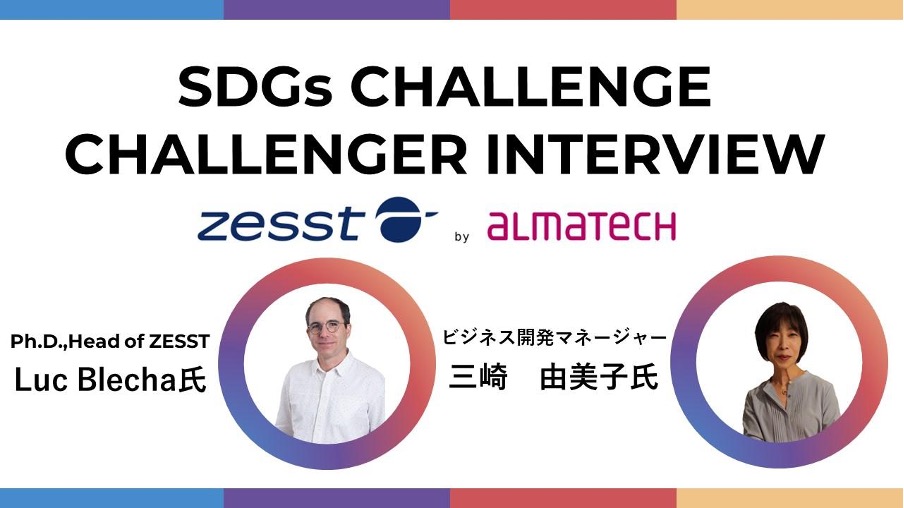 <Interviewee Profile>
ZESST by Almatech
Ph.D.,Head of ZESST Luc Blecha

Business Development Manager ,Yumiko Misaki,

<Biography>
Luc Blecha is a co-founder of Almatech, a Swiss space and marine engineering company, and is the Chief Executive Officer of ZESST, a hydrogen-powered high-speed hydrofoil vessel. He graduated from the Swiss Federal Institute of Technology Zurich then received his Ph.D. in mechanical engineering from the Swiss Federal Institute of Technology Lausanne. At the same time he founded Almatech, he provided the hydrofoils and ultra-stable structure and control technology for the Swiss high-speed yacht "L'Hydroptère", which set a world speed record at the time.

Yumiko Misaki is the Business Development Manager in charge of developing the Japanese market for Almatech. She has been working as a bridge between European and Japanese companies and joined the ZESST team in 2020. She has 15 years of experience in developing innovative technologies for the Japanese market as a head Japanese representative for an international computer vision technology company.

This article is originally copyrighted by Life-Tech KOBE
SDGs Challenge – Since 2021, we support business development and overseas expansion of startups that take on the challenges of solving global-scale SDGs issues to create systems and products that create global social change pivoting from Hyogo Prefecture and Kobe City. The SDGs The "SDGs CHALLENGE" is a co-creation program that aims to solve global SDG issues. We will introduce the startups selected for this program one by one in the Stories category of this website.
<Service Description> We are developing a hydrogen-powered high-speed hydrofoil ship, ZESST. With minimal water resistance, ZESST reduces energy consumption by 85% and reaches a cruising speed of 50 km/h. The zero-emission ship emits no CO2, generates barely any waves or noise, protects the ecosystem, and provides a comfortable ride. They also help protect the ecosystem and provide a comfortable ride. Replacing congested land routes with high-speed hydrogen-powered vessels reduces travel time and stress, and improves the quality of life for passengers. Not only are they zero-emission, but they are also much more economical and profitable than existing diesel-powered vessels.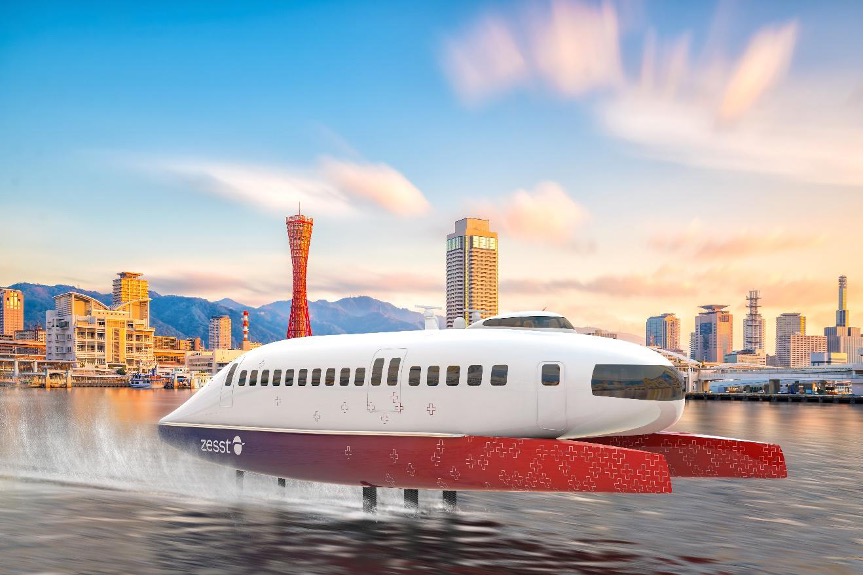 Simultaneously solving social issues and creating profitable businesses
-Please tell us how the business was founded and what prompted you to join
Blecha: We have accumulated 13 years of experience and trust in the field of space engineering. The development of ZEEST was inspired by our desire to contribute to the decarbonization of maritime transportation by applying the know-how we have accumulated in this field of marine engineering.
Misaki: I learned about the Almatec and ZEEST projects when I was working on a Japan-Europe business exchange based in Switzerland. I must say that I was impressed by the founders' passion and technical capabilities. Although I am not the founder of the project, I am challenging myself every day with an entrepreneurial mindset to introduce ZESST, a revolutionary next-generation zero-emission ship, to the kinda "conservative" Japanese shipping industry.
-What made you decide to participate in the SDGs Challenge?
Blecha: To accomplish our goal of exhibiting the ZESST at the Osaka Expo in 2025, we first focused on Kobe City and Hyogo Prefecture, where the city is striving to bring a society run by hydrogen a reality. By participating in the SDGs Challenge organized by these municipalities, we were able to build a strong network with companies that share an awareness of the problem through solving common social issues.
Misaki: When we received a reference for the SDGs Challenge from a public organization sponsoring innovation in Switzerland, we paid particular attention to the fact that it was sponsored by Hyogo Prefecture, Kobe City, and a UN agency. we realized that a marine hydrogen infrastructure environment was essential for ZESST to enter the Japanese market, and we focused on municipalities that are focusing on the hydrogen business This is because ZESST was pursuing business development mainly with municipalities that are focused on the hydrogen business. Our participation in the SDGs Challenge has provided us with tremendous support from local governments, and we have been able to build a network with Japanese companies with advanced technological capabilities.
-What kind of value do you hope to provide to society in the future?
Blecha: With ZESST's technology, which already has the lowest total cost of ownership in the market, we would like to spread the use of comfortable and safe passenger ships with zero CO2 emissions throughout the world, thereby simultaneously solving social issues and creating profitable businesses.
Misaki: Through ZESST's business development activities, I have learned the importance of having a stance on what "zero emissions" truly means. In addition to ensuring that ships do not emit CO2 when they sail, we need to take into account the totality of the manufacturing process of ships, materials. As well as the manufacturing process and raw materials of hydrogen, which is used as fuel, and aim to utilize technologies that has the abilities of comprehensive decarbonization technologies. We hope to learn a great deal from different perspectives and viewpoints of other participants who are working on social impact projects in various fields and are hustling to give back to society through their activities including ours like ZESST.