What can we pitch in as a plastic manufacturer? An Upcycling Brand "buøy" is up for challenge (English)
2023.06.05
What can we do as a plastic manufacturer? How can we be involved?
Challenging to Solve the Marine Debris Problem through an Upcycling Brand
Technolab Inc. is developing "buøy," an upcycling brand made from 100% marine plastic waste, based on the product concept of "creating indispensable products from disposed plastic".
The "buøy" brand lineup already exceeds 30 types of products, including trays, key charms, watches, and pen stands. The company is now stepping ahead to enter markets overseas, such as the United Kingdom, where the size of the ethical market is said to be 100 times bigger than that of Japan.
We interviewed Mr. Hayashi to find out what impact the SDGs CHALLENGE had on him as he tackled the challenges of crafting valuable products out of used plastics, challenging the status quo as a plastics manufacturer making his business sustainable! We interviewed Mr. Mitsukuni Hayashi, the President of the company.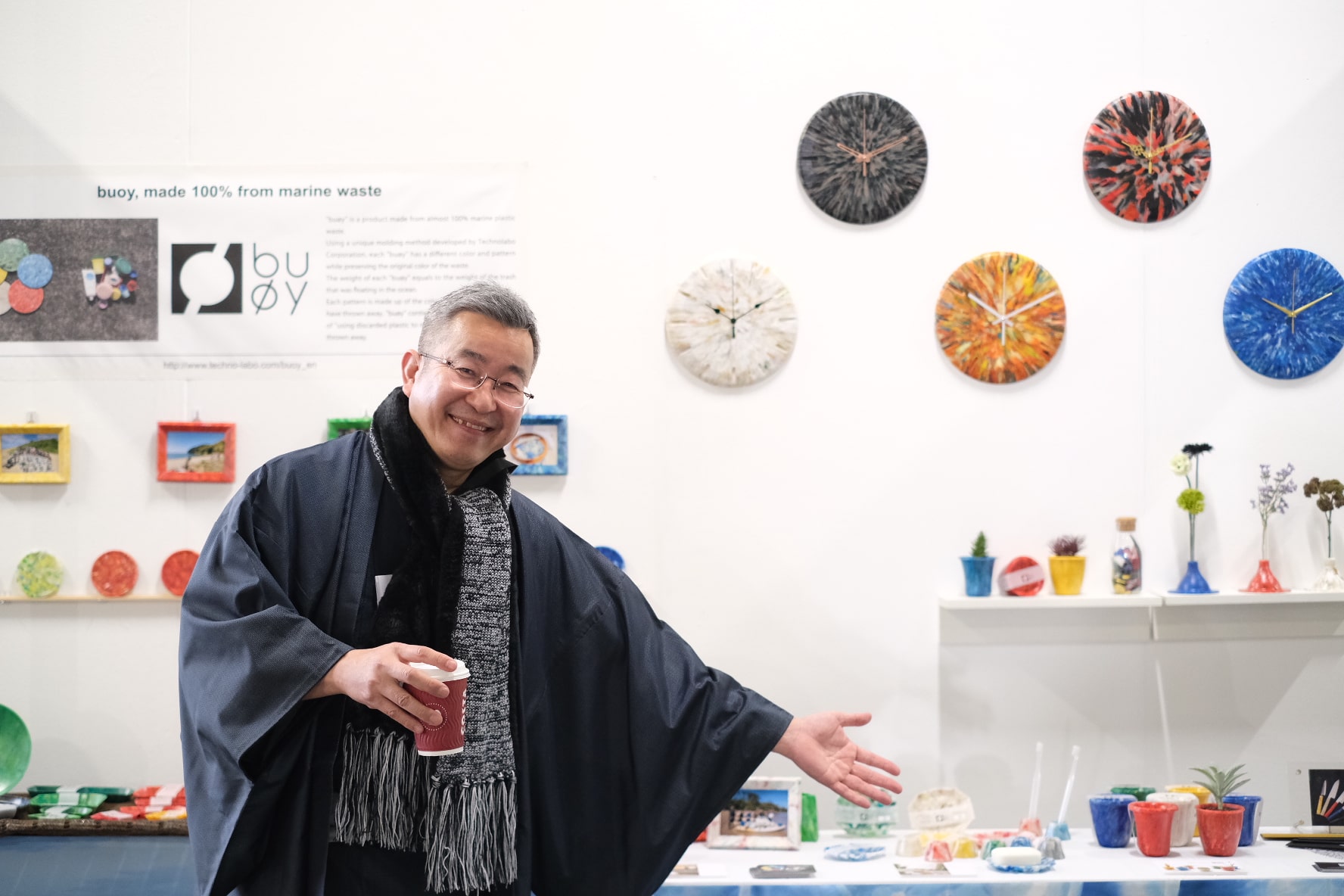 TECHNO LABO Co. Ltd.

CEO: Terukuni Hayashi

Established on: August 2004

Address: 6-19 Aoki-cho, Kanagawa-ku, Yokohama-shi, Kanagawa

Website:http://www.techno-labo.com/

buøy store: https://buoy.stores.jp/
A company dedicated to the product design of used plastic products. buøy, a product made of 100% marine plastic waste, was created as an in-house project, contributing to the reduction of marine debris. And to pivot to think about waste problems.
100% marine plastic waste "buøy", from Japan to the World
-What is the response from consumers since the launch of "buøy" in the market?
Sales have exceeded our expectations, but I think this is partly due to the "SDGs" fad, so I think it will take some time for the product to take root for good and sustain the constant promised sales. The benchmark we aim for is "How much marine debris were we able to return to society". The marine debris that needs upcycling is in tons, hence beyond something just our sales can do on our own. So it is important to know how many tons have been returned to society. To create a system where tons of garbage go around, a lifecycle, a market of buyers and a market of suppliers must be created in accordance to make it a reality. For this purpose, we are working through trial and error to secure a proper sales ground and cultivate a solid sales route.
-I suppose there are various kinds of marine debris. Does it vary from one shore or country to another?
It is totally different. The garbage collected from Africa is close to the primary colours. Whereas around Ishigaki Island(Japan), the overwhelming volume of garbage from China results in colours that are strongly apparent red and purple. Garbage around the Sea of Japan is slightly dull in colour, while the Seto Inland Sea debris is very pale in colour. Characteristics of the garbage differ depending on the area where it is collected. Although plastic colours are not fixed, they vary. It is rather a result of the markets around the world that determines what colours are popular, so the plastics and their colours reflect the country's preference. This is why each country's trash colours reflect its characteristics. The colours of the trash usually do not mix, However, if the melting point of the material is low, it will flow like paint, and if the melting point is high, it will form a mosaic-like residue. Since we only use colors only derived from the trash, every "buøy" is one-of-a-kind.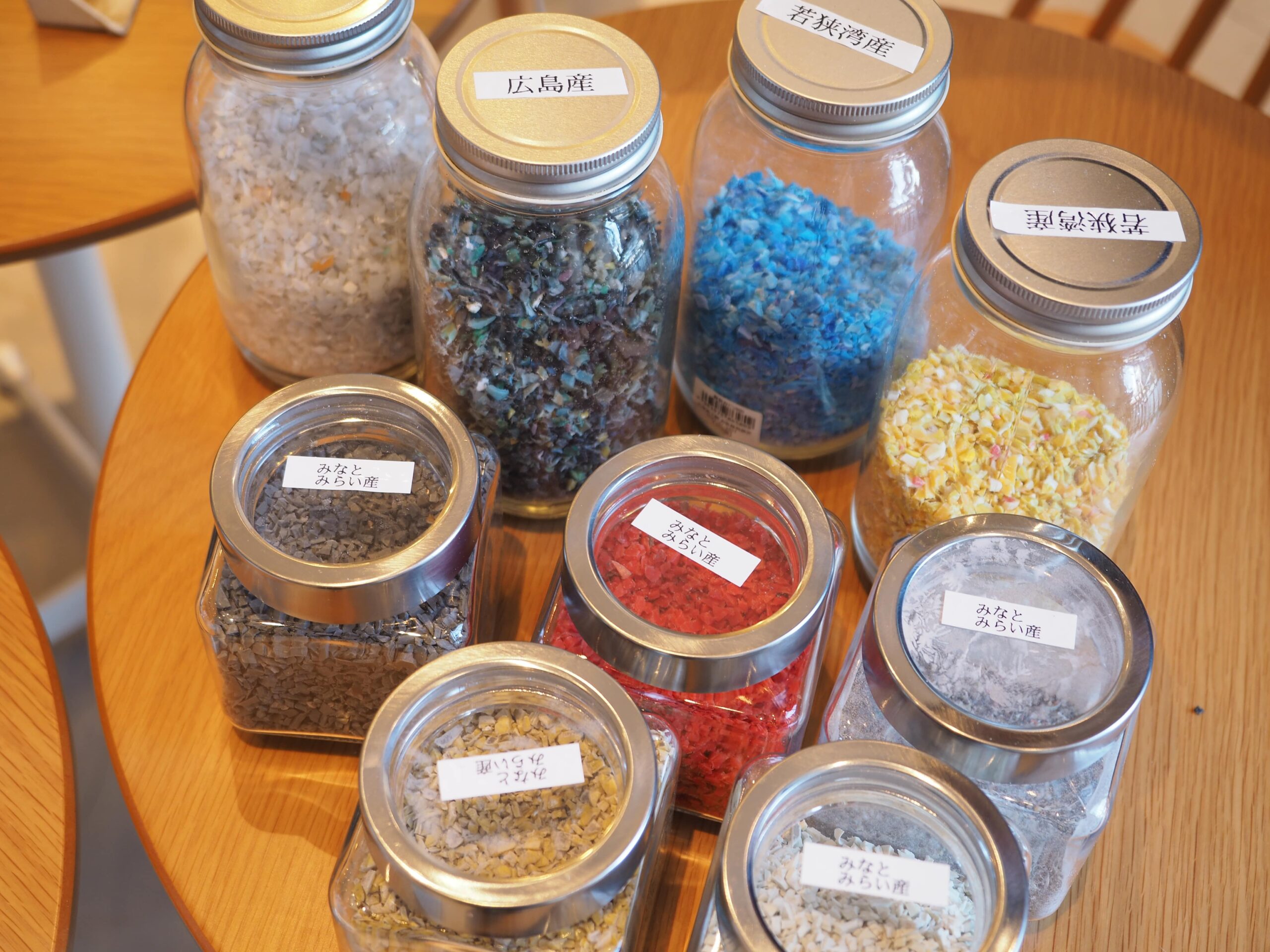 -Are you planning to expand into these markets in 2023?
We are going to open our first store ever in London this year, where the ethical market is said to be 100 times larger than the Japanese market. We are also considering expanding to Germany by the end of this year.
Encouraging mentors and government officials who support the progress of the project
-How did you get involved in the SDG Challenge?
Our main business is the manufacture of plastic products. And in the course of this manufacturing, we wanted to bring back the used plastic and upcycle them for prolonged use. We intend to give another life to used plastic. Hence, we created a product brand "buøy," which is made from 100% marine plastic waste. It was around this time that we began to think about how could we market our product from pop-up kiosks to permanent stores in the future, that is when I came across the SDGs Challenge. I wanted to create an opportunity to think about what it means for a company to be actively and purposely involved in SDGs. I felt that the amount of effort put into the "SDGs CHALLENGE" program was much more than I had imagined. Our mentors were always very humble and easy to talk to. No matter what we asked, they were able to give us ideas based on solid evidence and a wealth of knowledge that they had acquired through their vast experience. That allowed us to learn more about business and organizational development.
-How were the mentoring sessions conducted?
During the program, about 80% of the gatherings were held online and the rest were held in person. Each of the participating companies would present their ongoing issues, and then we would get feedback from the mentors and other peers. As we are all facing similar issues, it was good to hear others' interpretations of the problems and solutions and to be able to compare them with my own. At the end of the day, management sometimes makes decisions based on intuition, but I think it is important to make choices with your instincts and also involve some logic to make the best choice. Many of the mentors were graduates from universities abroad and are still well-informed about the world, so I learned a lot about pricing and branding, as well as organizational theory from them. I think the time I spent in this program was very productive.
-What do you find appealing about the SDGs CHALLENGE?
The "SDGs CHALLENGE" program itself is appealing. But I also wanna emphasize that Kobe as a city is also quite appealing. Kobe attracts not only attractive companies but also interesting people. I was also impressed by the cooperation and involvement of the local government. We are working with volunteer groups with government officials in areas where marine debris washes ashore to create products.
We also intend to draw attention to the area where the trash was originally collected. However, since marine debris is drifting trash with no clear origin, it is difficult for the government to take action. Yet, someone has to pick up these. So to reach the solution we need the cooperation of the government. Even in such a scenario, the city of Kobe was proactive in solving social problems, and I felt if this kind of cooperation between the public and private sectors could be the norm how pleasant would it be? Everyone I encountered through this program had passionate views and visions for Kobe, and their ideas attracted me to work with them. They were very passional, the people of Hyogo (lol).
-So you could see the bright and vast possibilities through collaboration among the Private along with Public sectors in this program.
I think that we are now in an era, where it is not enough for companies to solely work for their benefit. I think keeping in mind the direction that we are heading as a society together with the next generation is the same for both private companies and government agencies. Frankly, I believe that those in the public sector need to have an aggressiveness and sense of speed that is similar to that of the private sector and they can inspire and collab with each other. In this regard, I think the SDGs CHALLENGE is an optimal testing ground. It was a program in which the government and the private sector seriously tackled the SDGs hand in hand from various angles in their expertise. It was interesting.
Passing the Value of Plastic to the Next Generation
-You interacted with people from companies and local governments in Kobe. Did this program give you a glimpse into the potential of Hyogo Prefecture and Kobe City from a business perspective?
This program has sparked a great deal of interest in Kobe as a place with its prime location. Our business is about collecting and commercializing marine debris effectively. Much of the marine debris washes ashore in the Kyushu(Southwestern most of Japan) and Hokuriku(northwestern part of Japan) regions, which are far from the Kanto(Tokyo and its surroundings) region. Considering that we have to travel to Kyushu and Hokuriku often, we can consider utilizing Kobe as a midway one of our bases. It is a bonus that the food tastes excellent wherever you go in Kobe(lol). Through the chances I got to visit Kobe, I found it to be a compact and comforting urban city. The personal space between people is just right, and I like the comfort of being able to keep an eye on things without being interrupted all the time. Kansai Airport is also close by, and it is easy to get to Tokyo and the coast, so I thought it is a brilliant location.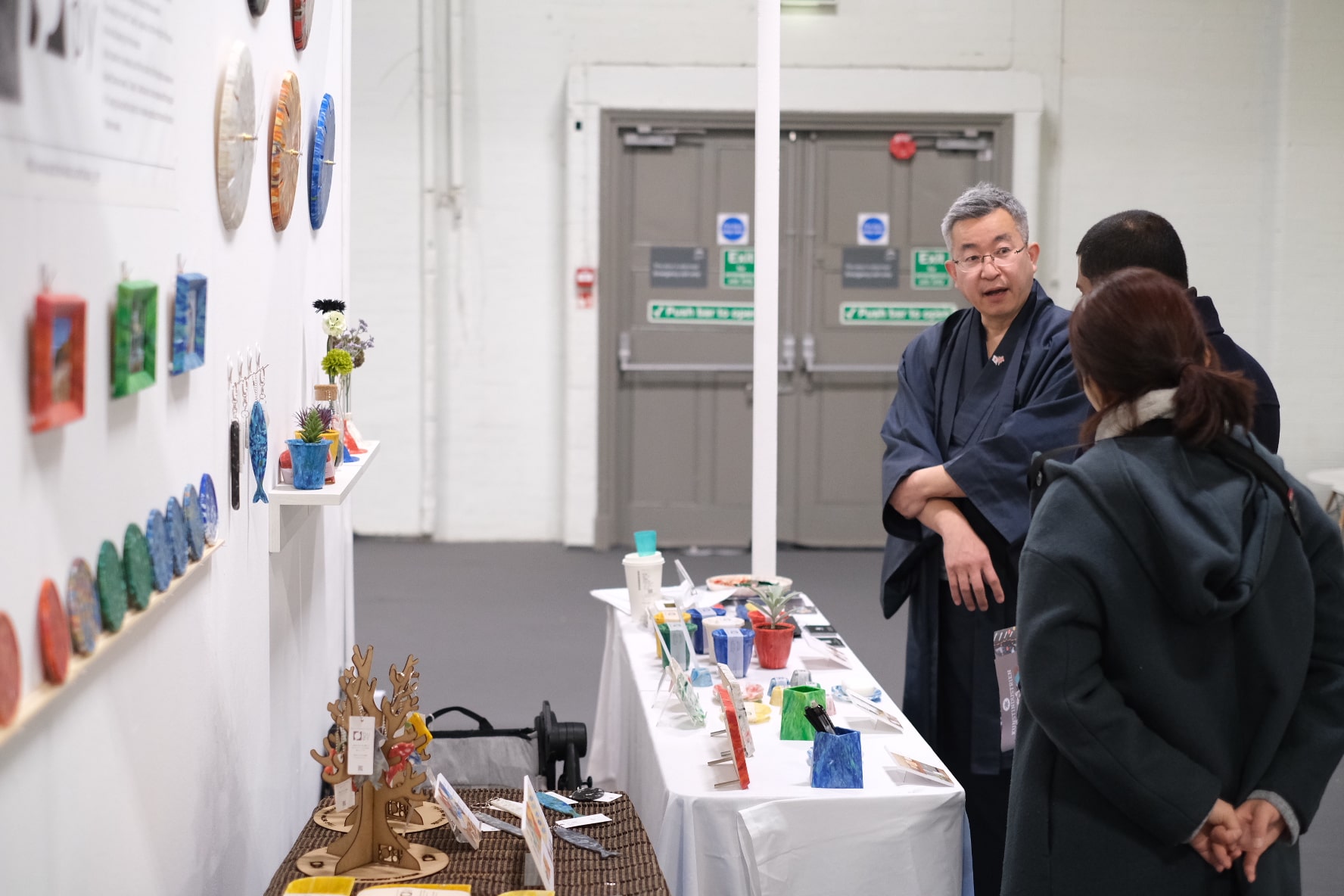 -What kind of goals do you have in mind for the future of Technolab?
There are two significant ones. First is that I want to properly pass on what I am doing to the coming generation. I owe it to the material "plastic" that I was able to put food on my table. I do not want the plastic industry to end with my generation as the villain in terms of environmental consideration and protection. I want the whole industry to be more responsible by including sustainability before the sales, and pass this industry to the next generation for good. 
Second, if there is an opportunity to be involved in the marine litter business or marine-related work, I intend to take on this challenge at every chance I get. I thought that the most important thing in business is "luck". For example, if you draw a lottery, some people win after three tries, while others might take 100 tries. So I wanna keep this mindset of keep trying until I get lucky. I think company growth and sales are benchmarks for how much we are involved with society, and profit is an indicator of how much we are appreciated by the people we are involved with. I think that is a very rewarding way to live.