Mid-DEMODAY with Kansai Economic Federation|SDGsCHALLENGE (English)
2022.12.23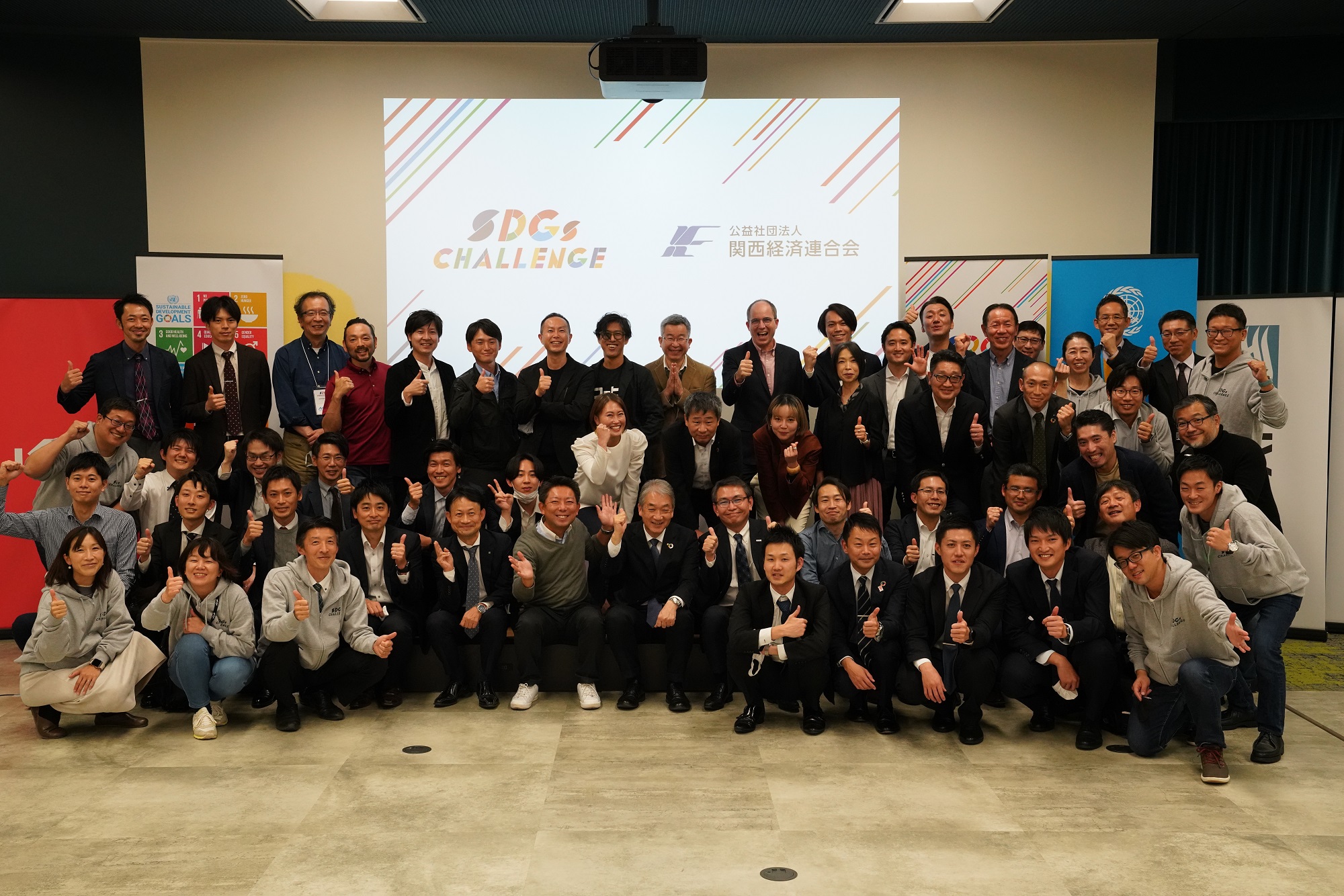 1.Technolabo Co. Ltd.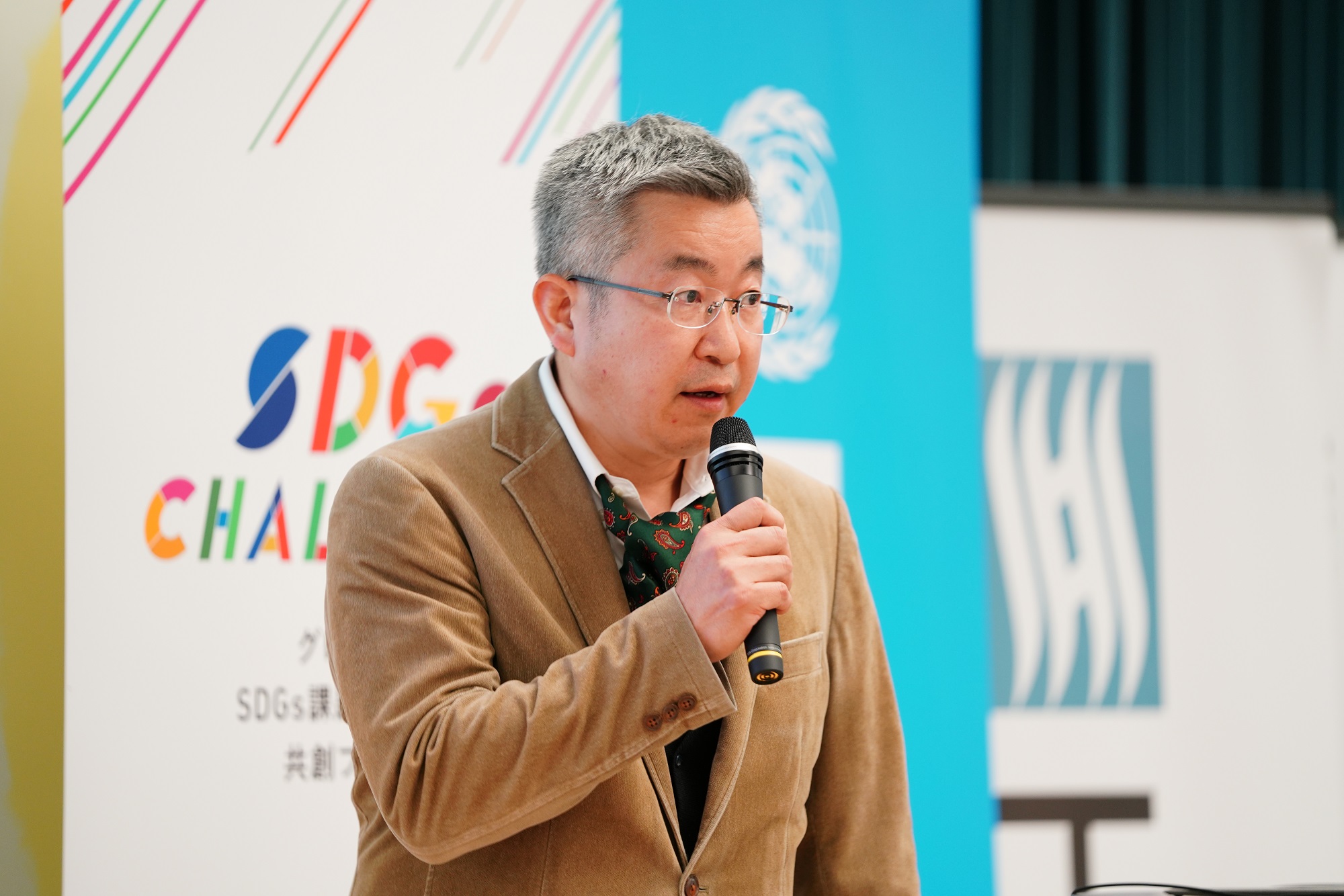 Did you know that 100% of the plastic waste that washes away to our shores in the islands in the sea of Japan does not get recycled? Plastics were initially created to benefit our society, and they have the potential for prolonged use rather than just one use. So we wanted to give those plastics another chance. So we came up with a fix for the wastefulness of "single-use(d) plastic."
In our company "Technolabo", we create something which will be repeatedly used from the plastics used just once. We create something harder to throw away than single-use plastics such as plates from water bottles. The plastics are brought off by the volunteers who collect them from the shores. We label the final products with the volunteering groups' names.
We want to commonize the "ethical market" products in Japan. As Japan only has 1/100 of the ethical market compared to the UK. We want to become the pivot for the ethical market in Japan. The garbage that is washed away is not just "garbage" if we can give them another purpose, another chance. This way we give it a new purpose, from garbage it becomes a tool to connect people.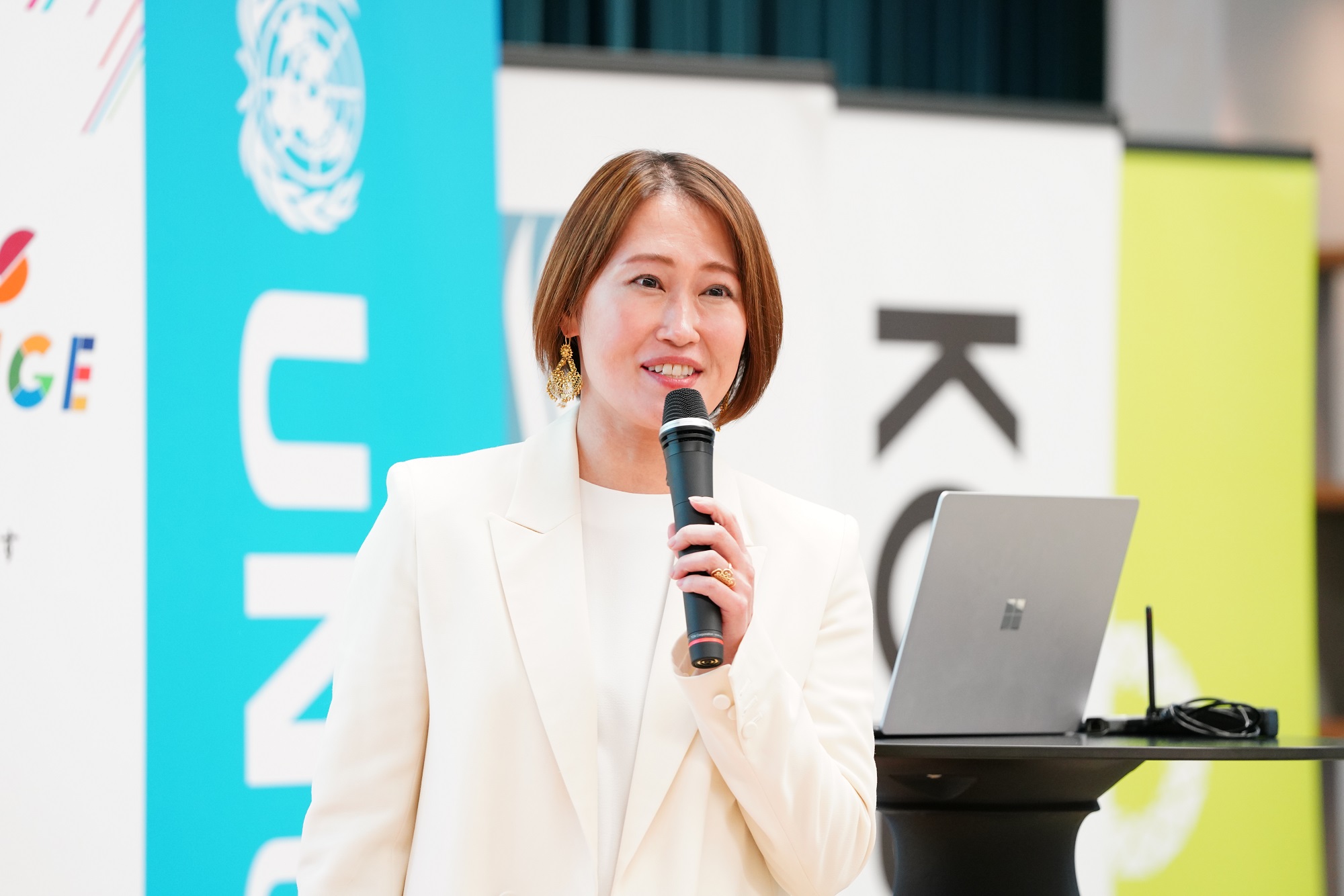 This company started as a fix for those who struggled to choose clothes when getting ready. As many people spend time and money on clothes, unfortunately, they end up throwing them away without making the most use of them. So this app is a saviour as it helps to make the most out of the clothing you already own.
This company developed an app called "Minisuta" derived from "minute styling." One can download this app, take pictures of their clothes, and send them to a professional stylist. The stylist then styles the clothes in alternative ways and sends them to the client. The client can then download the pictures of these coordinates and wear them. Reducing time and money, as well as gaining confidence as professional styles help you. All these lead to waste reduction and are environmentally friendly as well. 
Suppose people decide to wear their clothes for a year longer. This act alone cuts the emission of littered clothes from 500,000 tons a year to 460,000 tons. A reduction of 8 percent!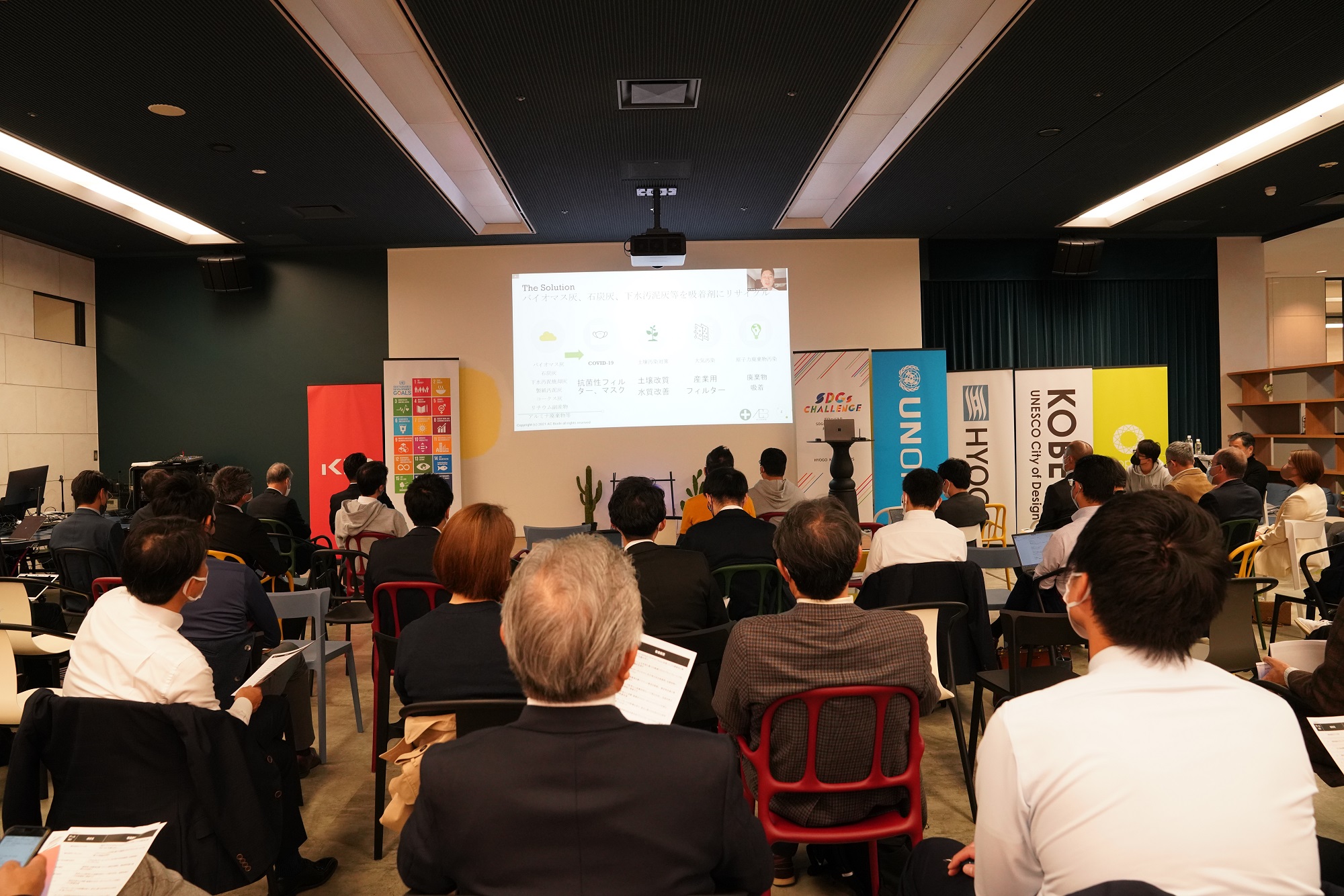 Many troublesome ashes are hazardous and environmentally damaging. Yet these ashes are left untreated as it is costly for corporations and governments to clear them away in the most environmentally friendly way. So AC Biode works by upcycling the troublesome ashes into new products. This company uses the ashes by recycling them while using them profitably. In innovations such as absorbent or antibacterial masks. This company combines chemistry with electronics, using the term "Chemtronics for ecological sustainability." They have already innovated a mask that has an extremely high absorption rate of hazardous substances such as ashes. And they work on spreading it.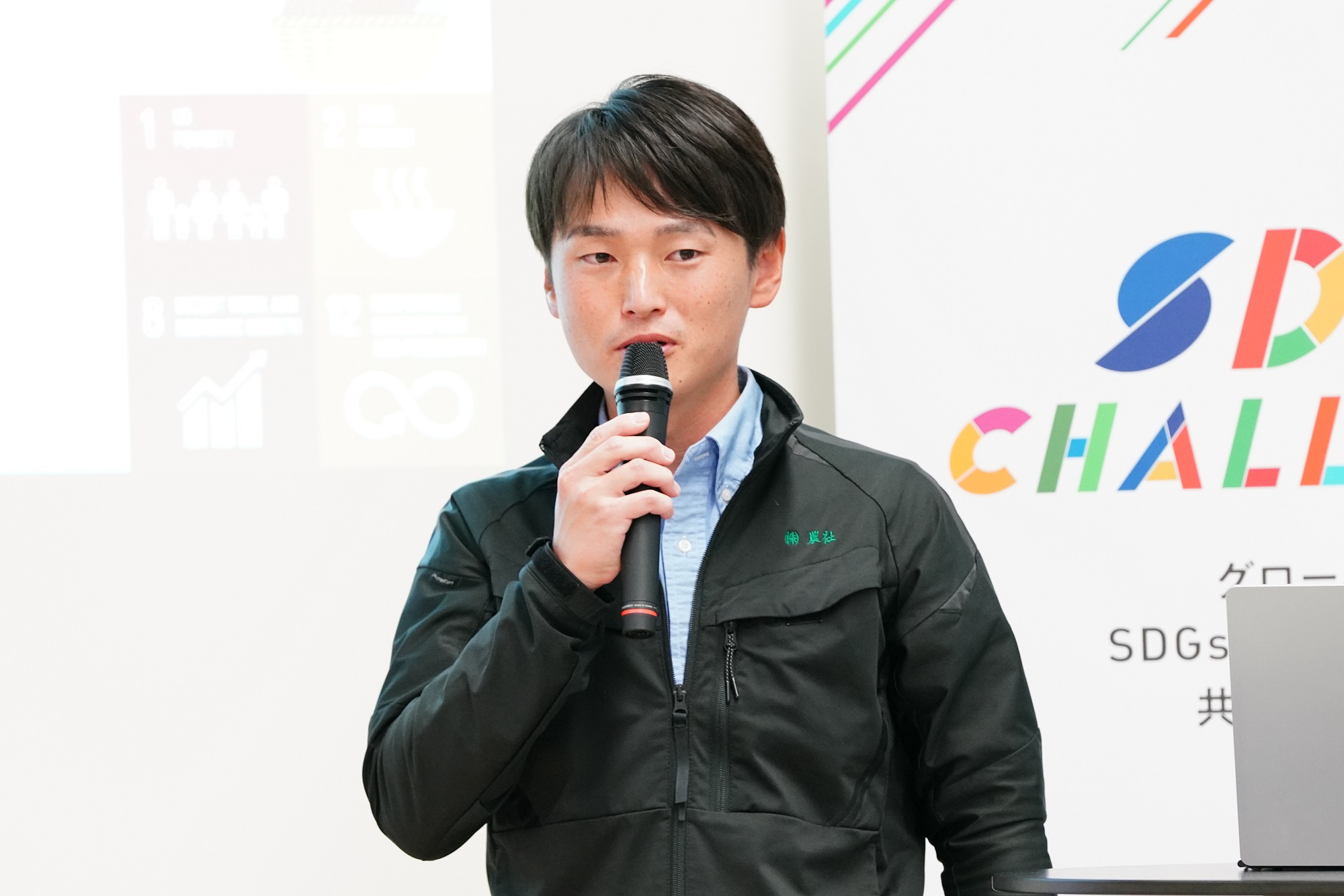 It means "delivery" in Japanese. But this is special, as fresh produce is delivered from the farms. There are two main struggles for the farmers. First is that the value of the product is not reaching the consumers. The second factor is the high selling and distribution cost which covers 70 percent of the profit. 
So, this company "Todokemono" is a company that is working to eliminate these costs. By delivering the product directly to the consumers. That way they can reduce the cost of transit as well. the farmers came up with a staffless fresh produce stall. However, the cons were that the menless stalls were all in the suburbs far away from the reach of consumers in the city. As the farmers want the fresh produce to reach consumers in the city. We came up with a direct delivery system of the product from the farm to people in cities. And this market is growing rapidly.
The business model is that offices can subscribe to our delivery system and we will produce racks with a refrigerator. The people who use the office can access the fresh produce easily this way. We are looking to increase partnerships for these stalls.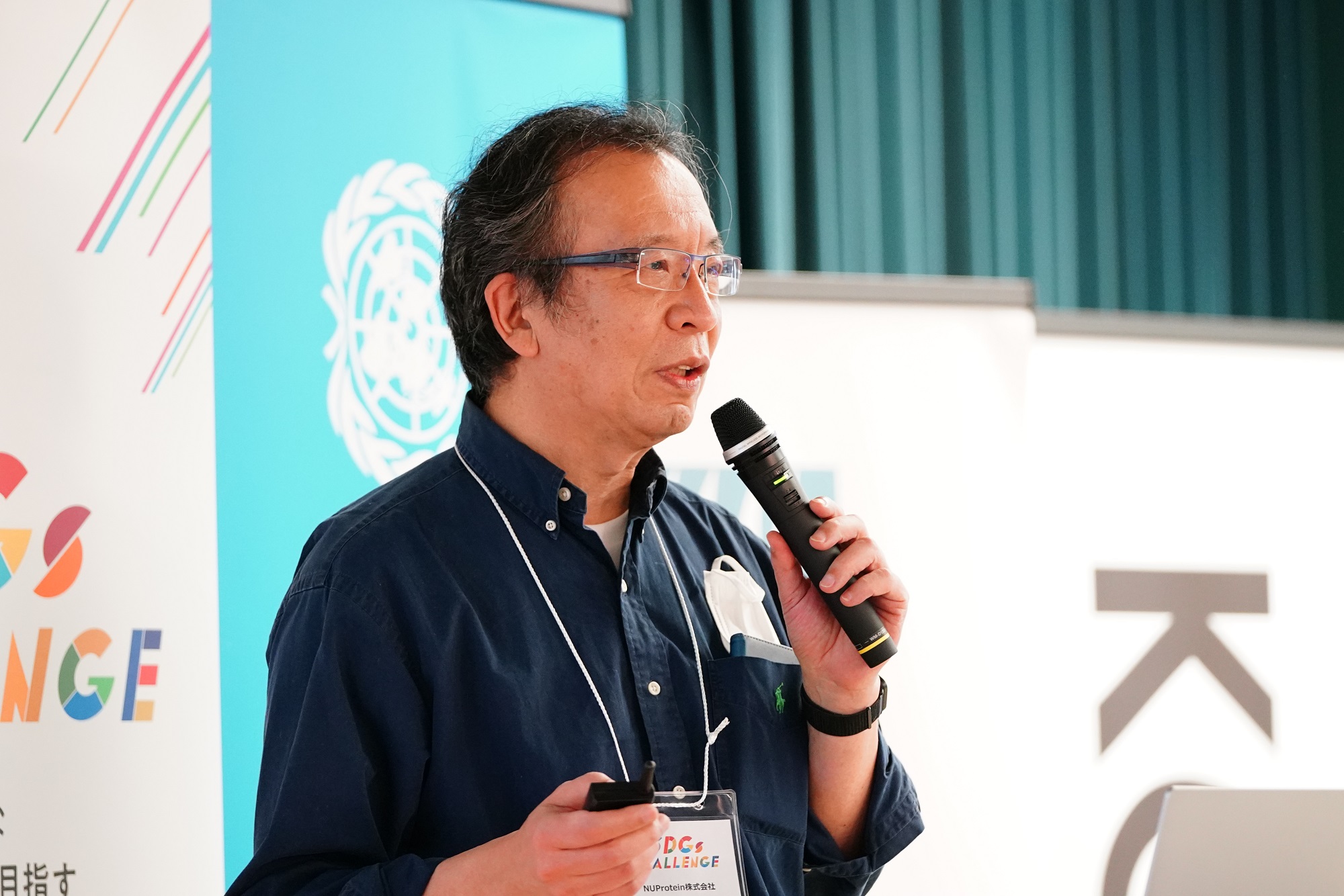 NU Protein aims to reduce the load on the environment by cultivating protein from vegetables such as wheat. To standardize the cost and handiness of replacement of meat protein, it has been successful in researching and inventing a container farm for the cultivation of wheat for protein. That way they have successfully extracted the protein from plant wheat. Was able to reduce the cost of a 200g steak's protein's amount from 100,000 yen to 40 yen.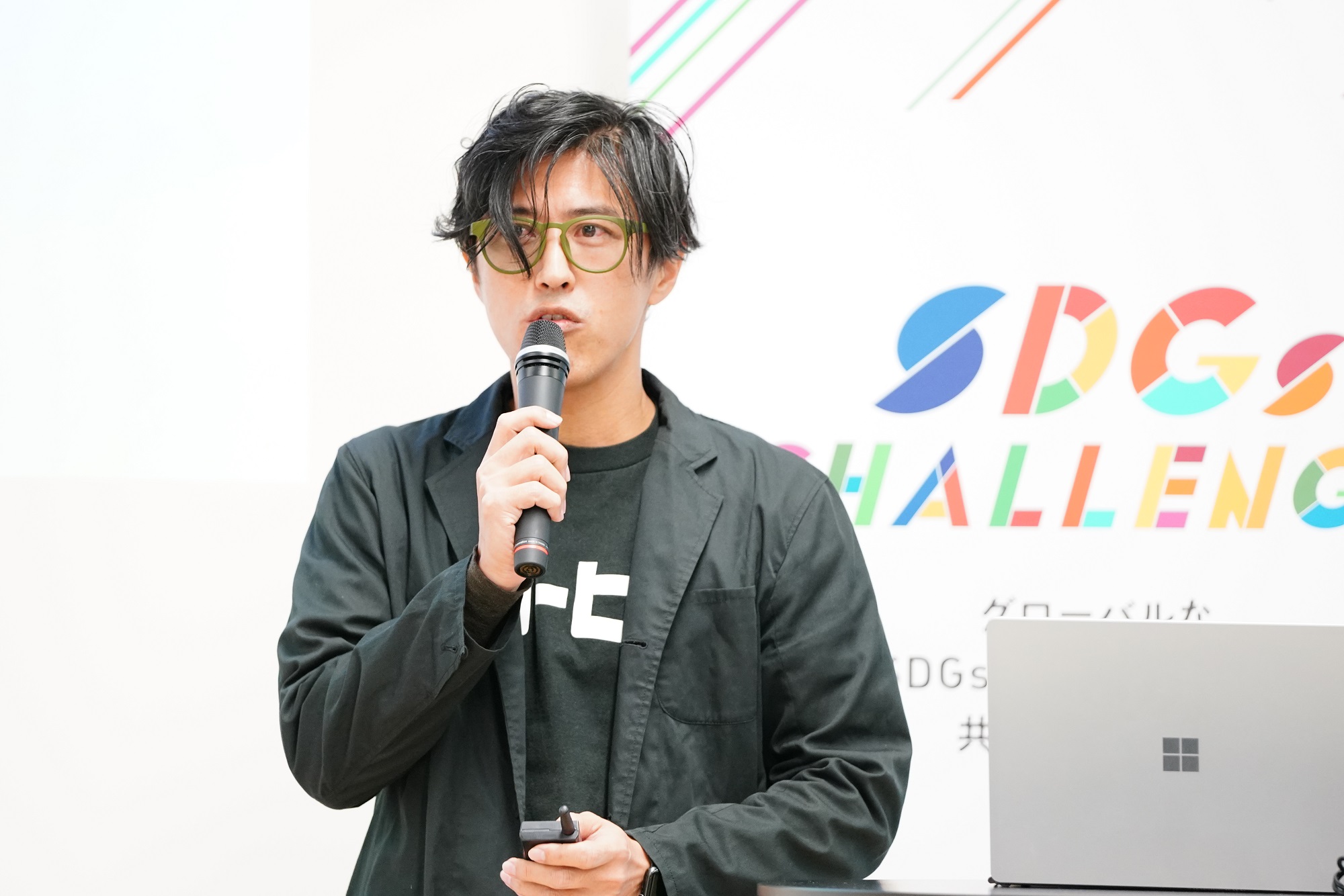 There is a prediction that by 2050 the production rate of Coffee beans will be cut to half due to climate change and this company came up with a solution to avoid that from happening. We developed a unique application with the feature of calculating your coffee's carbon footprint. So that people can not just imagine, but see their carbon print. There is a scan code in the coffee cup which helps visualize the carbon footprint of your coffee.
As each coffee cup makes ten grams of coffee grains that are not recycled. But it is so valuable if we recycle it. We want to build a system and commonize this system of recycling the grains. The grains will be made into beads called Bio Charcoal. Those will be sent out to the farms and used as fertilizer. This cycle of reusing the grains will reduce carbon emissions by 18 grams per cup of coffee.
Their eventual goal is to spread the recycling of coffee grains to entire Japan and cut emissions this way.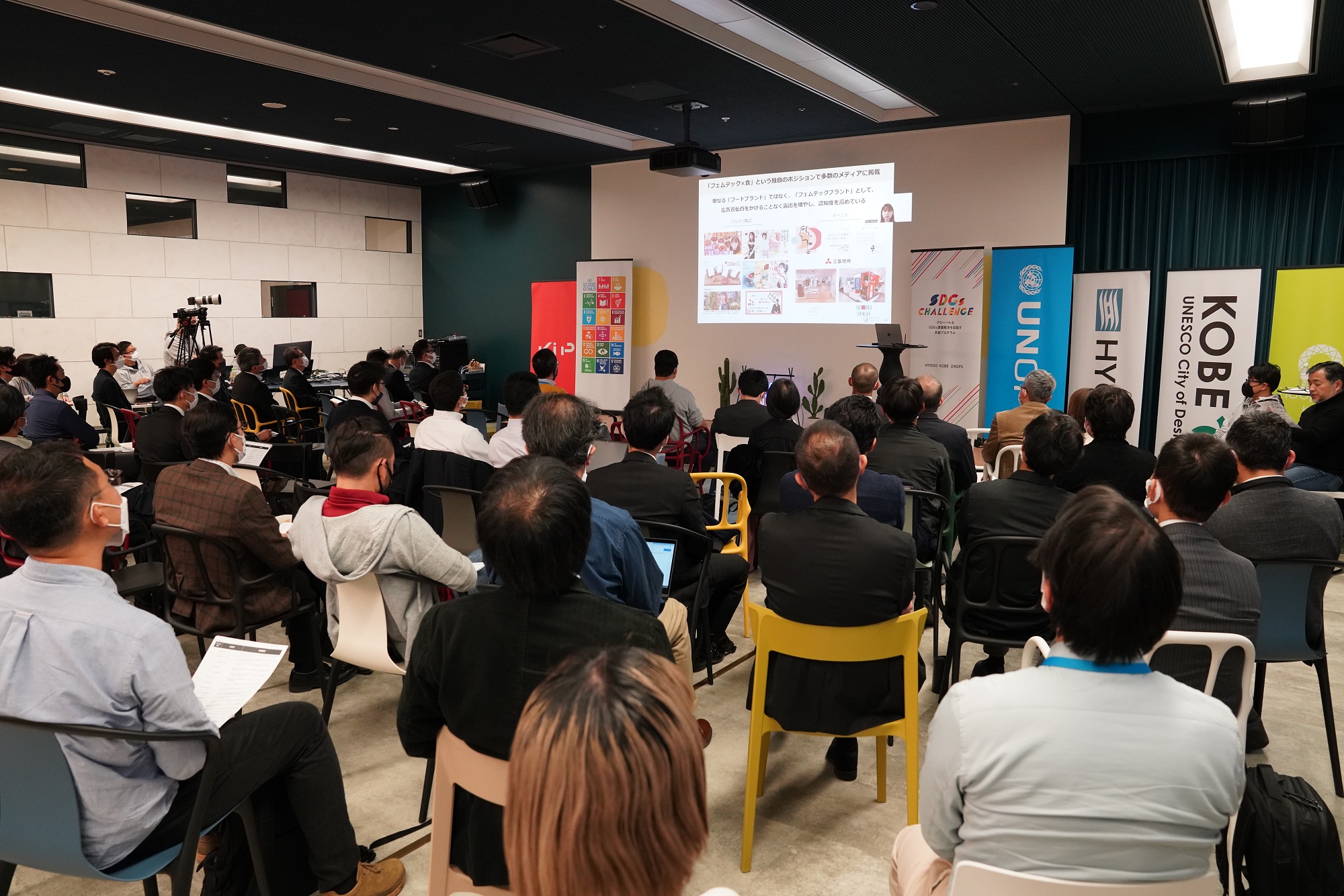 This company is specifically designed for the particular needs of the female body. As women go through many cycles and changes in their lifetime. These changes include characteristics such as PMS, Postpartum depression and menopause. 
To overcome the changes healthily, this company aims to spread awareness of such issues as well as treat it through their bespoke treats. The app provides users with treats that are parallel to the specific needs of the user. The treats are designed for maintaining hormonal levels through balanced "moon treats" intake. 
A client can order what she thinks she needs, or order a hair analysis kit. The hair analysis kit is delivered to you and you can do an at-home hair analysis. The kit gives you the results. Then you can take an online survey that will match you with the exact treat. You can order it then to achieve your well-balanced hormonal level and many more. The treats are not just treats, they are plant-based as well as gluten-free. And they will be delivered to your door.
According to the CEO of this company, this is the only Femtech company that combines food with technology. This feature is unique to moon treats. Also, the strength of this company is the high repetition rate of each client.
Moontreats is gaining attention by constantly advertising in the media outlets such as women's magazines and events. They have sold over ten thousand units in just a year and it is continuing to grow.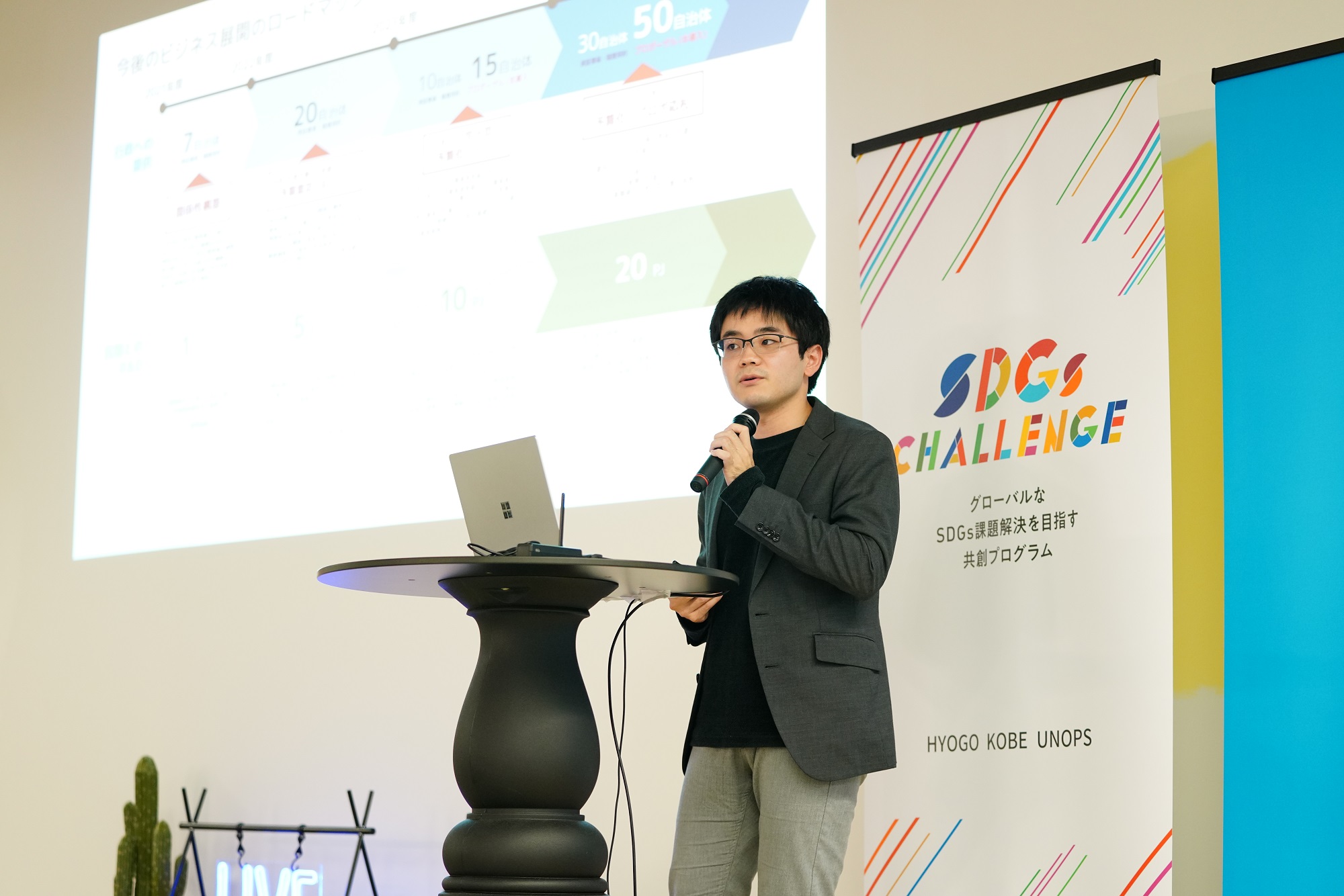 I made a platform that adjoins citizens with government officials. This way we can step towards democracy by cutting costs. The CEO came up with this platform when he was 18. It was the year the voter age limit in Japan was lowered to 18. But he noticed the knowledge gap between the citizens and the politicians. The knowledge of what each wanted was not communicated thoroughly.  He decided to do something about it, as he interviewed many politicians, he noticed that everyone has the intention of learning what civilians want but the cost is quite expensive So he came up with this platform that solves this problem. It acts as a pathway for ideas and suggestions to be seen and heard by the officials.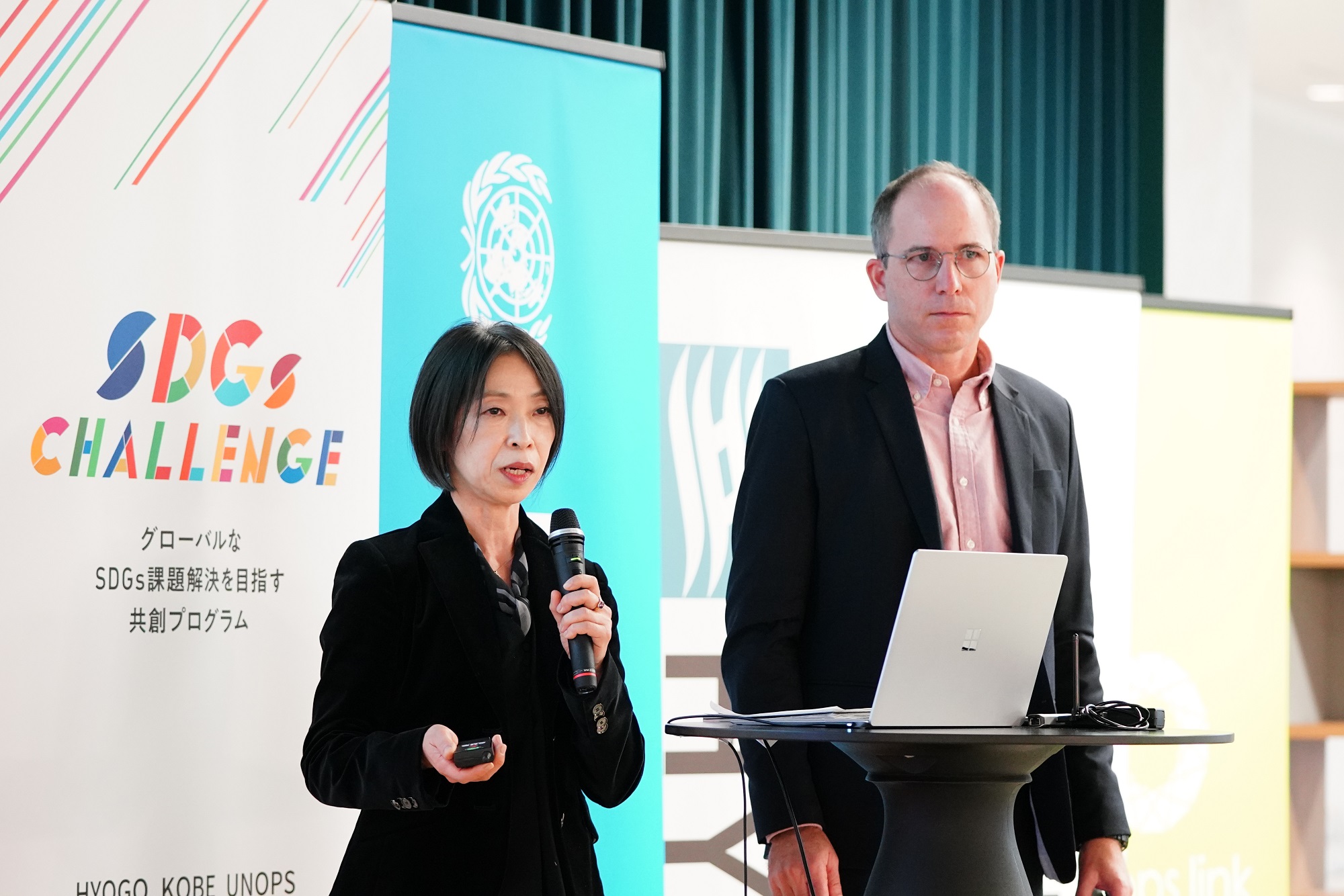 They are a company from Switzerland. Almatech will be a participant in Osaka Expo 2025 as well. They are developing a zero-emission speed shuttle. 
This company is contributing to mobility decarbonization with green maritime alternatives to road transport. It is called Zesst, a hydrofoil vessel powered by green energy. It is fast, comfortable, silent and wave-free. They aim to display the seven-passenger boat by 2025 and present it at the Osaka Expo 2025. They have already developed a single-passenger (pilot) boat, and it is not affected by the waves. This pilot boat has won the title "winner of Monaco challenge Race 2022". In 2021, they signed a unique partnership with e5 lab. Ever since the partnership with e5, they have grown immensely and rapidly. They also moved from Tokyo to the Kansai region for developing the business. As they got selected for the "Kobe city SDG accelerator" as well as the "Osaka Global Innovation forum". Their next step includes the opening of Zesst in the Kansai region.
10. Dots for Ltd.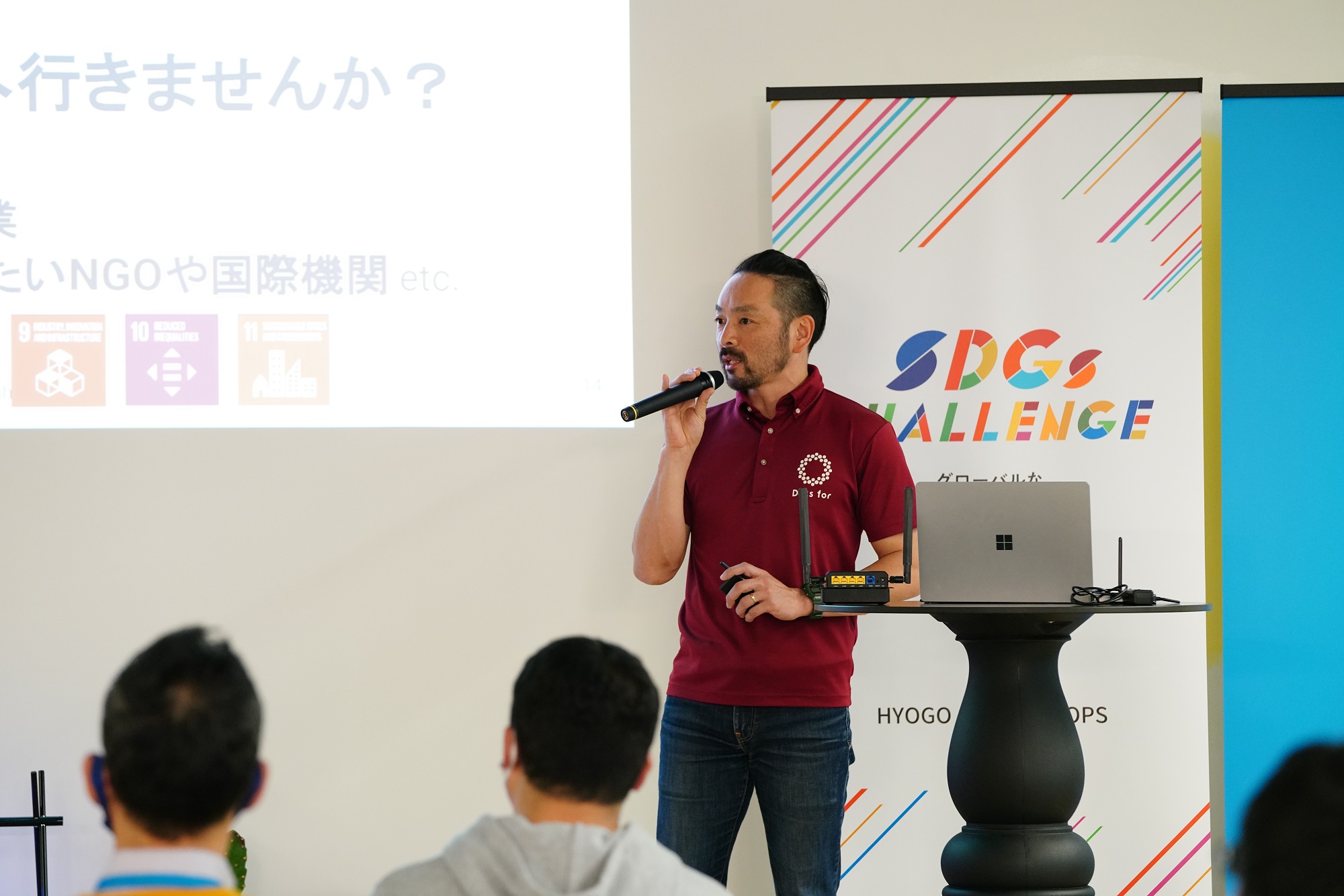 This company is providing African suburban areas with technology and infrastructure that will help localize smartphones. As smartphones have become more and more affordable yet their use has been limited to people in cities as most rural areas in Africa are not equipped with the infrastructure to make the most out of smartphones. This is why the user rate of the smartphone did not increase in the suburbs. Dots for aims to maximize the coverage rate of the internet and every service that a city needs, but the African villages do not have. Although the people in suburbs can afford it, the user rate is merely 2% or less, and the rest of smartphone usage is concentrated in the cities as much as 44%.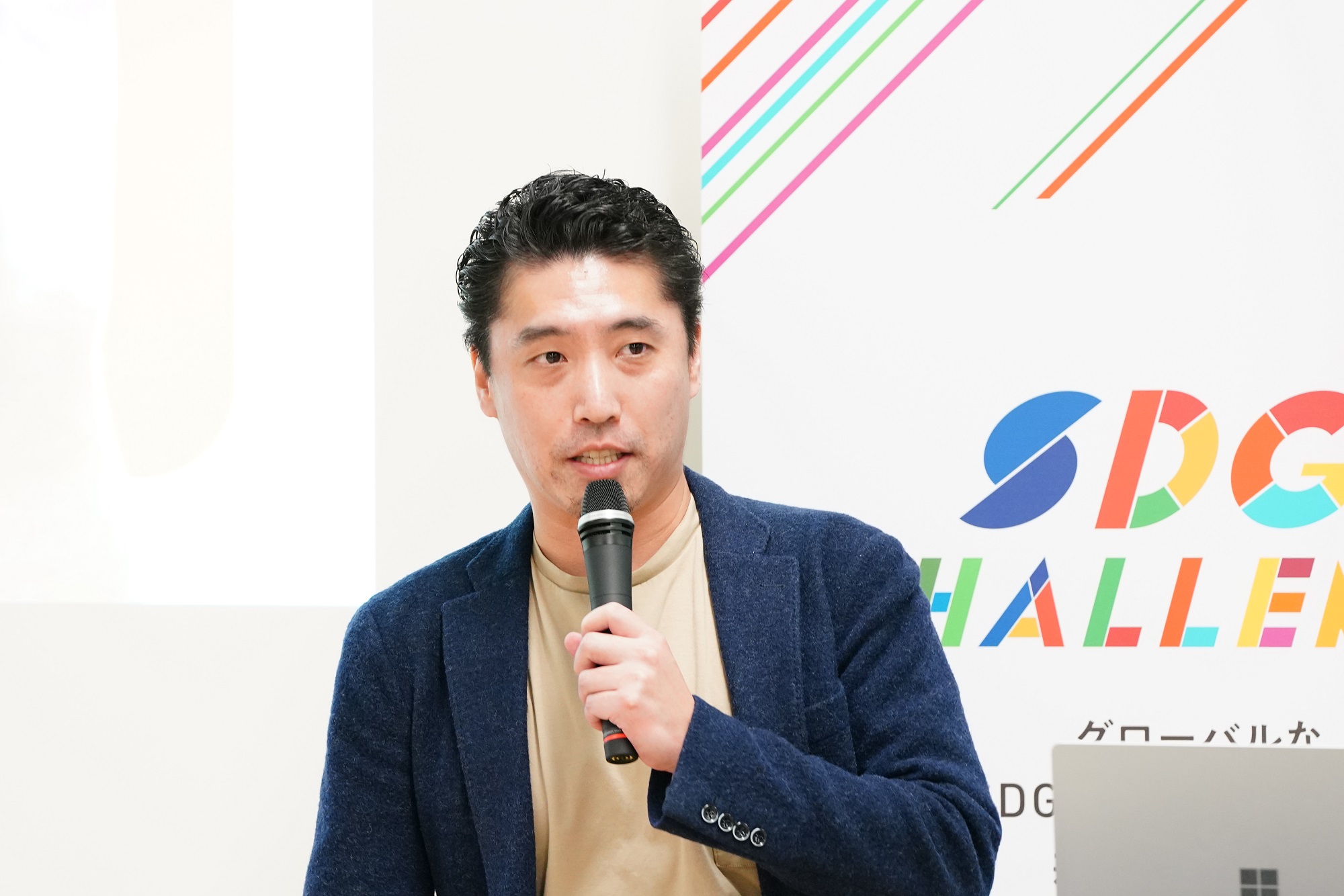 They have come up with an app that will be handy for foreigners to learn Japanese. This app is called "Kurashi Study". As the founder realized that unfortunately more than 40% of Japan has not have enough facilities for foreigners to learn Japanese. There will be an increase in foreigners working and living in Japan, so the inadequate language learning facility will become a huge problem. And as a Japanese, he felt the need to provide a learning platform. He wishes to reach everyone who is in need and is eager to learn Japanese. This app not just provides Japanese language skills but has a paid option for private tutoring for different learning purposes too. The teachers are all well experienced and they go through a trusted process of recruiting so you can rely on these teachers for learning Japanese particular to your needs.
12.Redge, Inc.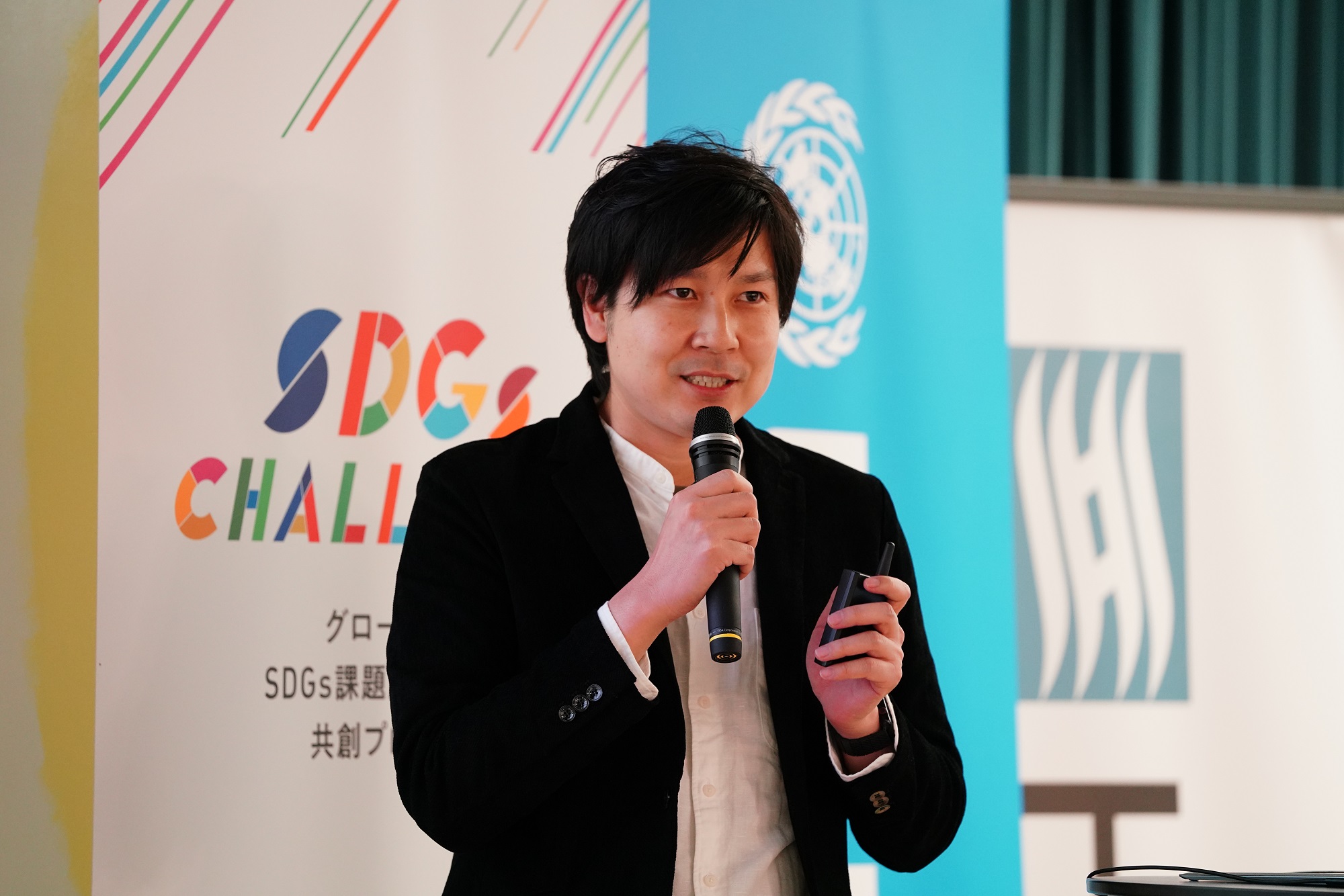 In medical facilities in Asia and Africa, people are losing their lives due to problems surrounding medical devices. Which leads to a loss in treatment opportunities caused by a lack of medical device management and training. We support medical device management and education by providing a medical device management education system(CeTrax)that utilizes Japanese clinical engineering technology. We aim for a world where the safety and quality of medical care are guaranteed to everyone, regardless of their birth country. I noticed that there are three core problems to the inequality in the medical field, those are the poor managerial conditions of machinery as well as patients. The lack of training for correct and elongated equipment use. All these are the issues we are trying to fix to overcome the differences in the medical field across nations. So far we have done hearings and demonstrations in Cambodia. We accomplished fixing five out of eight pieces of equipment that were not used. The critical point is that the machinery that can still be used is not being used to its full potential because of the lack of training whether it is the elongated incorrect use or the missing parts. We also found out that many problems can actually be fixed and we have proved it through the demo in Cambodia. I welcome everyone to spread awareness about  this situation and cooperate with us to change this situation, Thank you.
13. Caren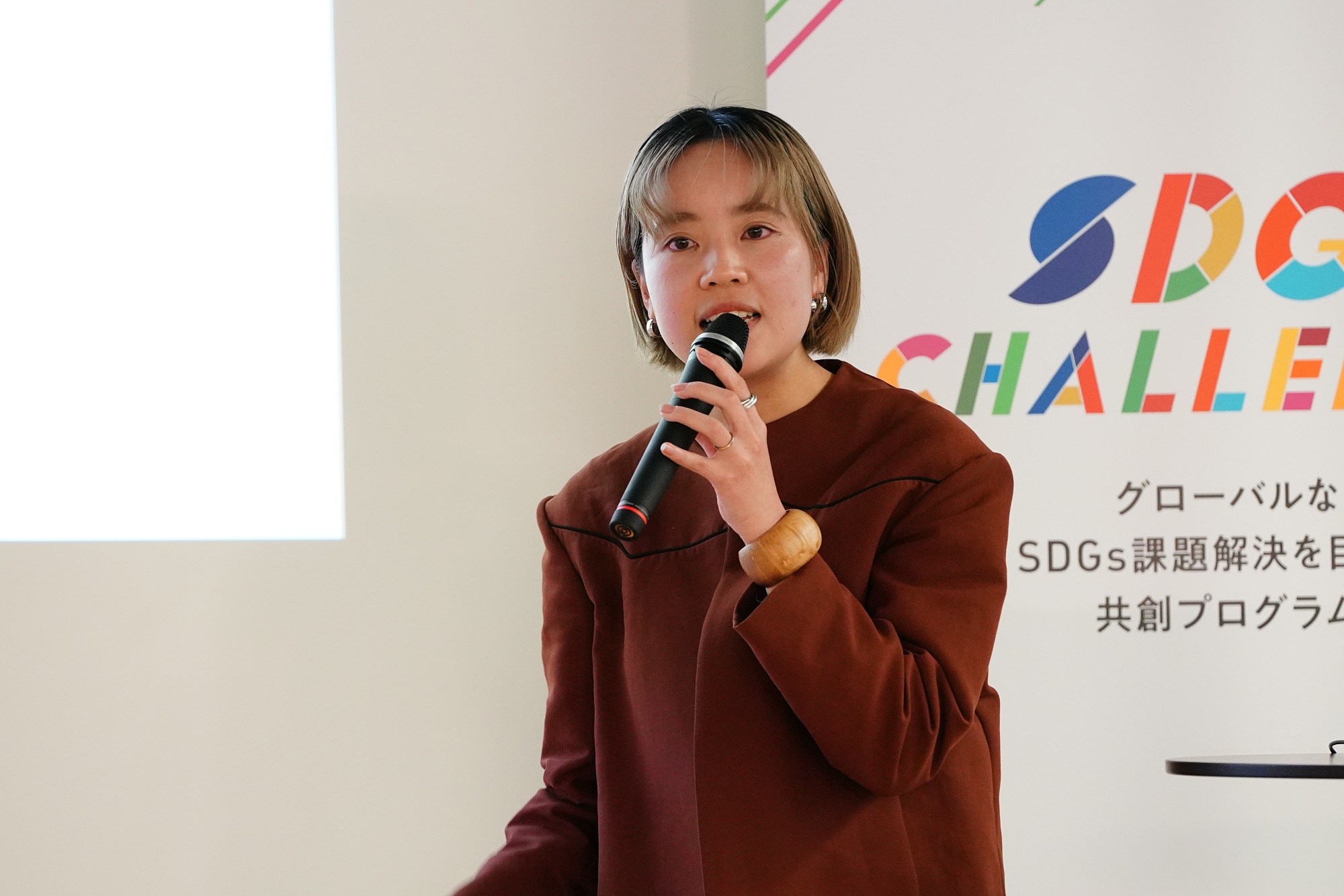 Caren is a platform that trains individuals to achieve and maintain self-supported good mental health through mindfulness and healthcare. Mindfulness is being aware of your surroundings in order to make the most out of your everyday life in a healthy manner. In Caren, we provide life therapy as well. This started as there is no place for people who are in emotional therapy but the cases are not severe which means it is not enough to go to a psychiatrist. Did you know that there is no place for such people who are in need but not quite there yet? Caren provides a three-month group syllabus that consists of therapy sessions and group discussions to put an end to the negativity that comes from within. Through this programme, one finds confidence and a good support system. 
Caren also welcomes businesses to consider taking our surveys as our results are honest. Therefore reliable, as it is derived from the well aware minds. The charm is not just the good mental health but also the age group, as we have many GenZ participants. We also provide a good mental health training system for corporates and companies so that they can maximize their employee's productivity. You can invite us to train employees in your companies for better mental health. One of the companies that have integrated taking care of their employees this way is "Google."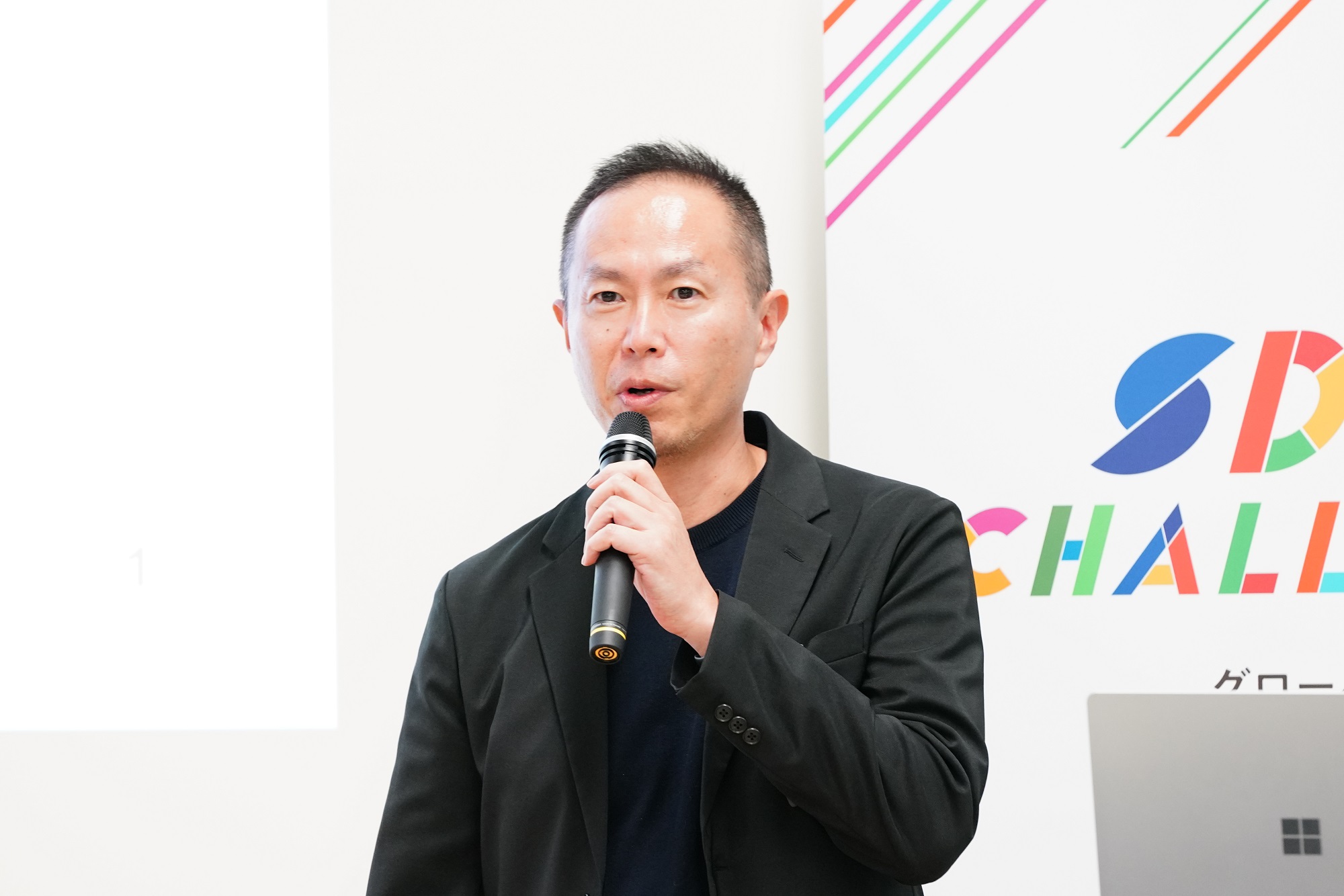 This is a B2B2C company. Babyjob provides unlimited nappies and wipes directly to the nurseries for kids. The founder and CEO Mr. Waki came up as he was working in a nursery when he noticed the stressed parents when picking up and dropping off the kids. They have not just their preparation but the preparation of the kids as well. They sometimes forget the nappies of the kids, which leads to the borrowing of nappies from other kids, which stresses the nursery teachers to replace and ask the parents to bring the nappies back. Nappy handling is just one of many challenges for parents but this business makes it easier for everyone involved and it decreases the stress too. 
The parents must pay a subscription fee but it doesn't increase or decrease due to the size or the usage. They are both unbounded. This service takes the burden off the shoulders of the parents from labelling the nappies and wipes then preparing them and then carrying them to the nursery.
(Greetings and explanation of initiatives) Fukukazu Shiraishi, Counselor, Kansai Economic Federation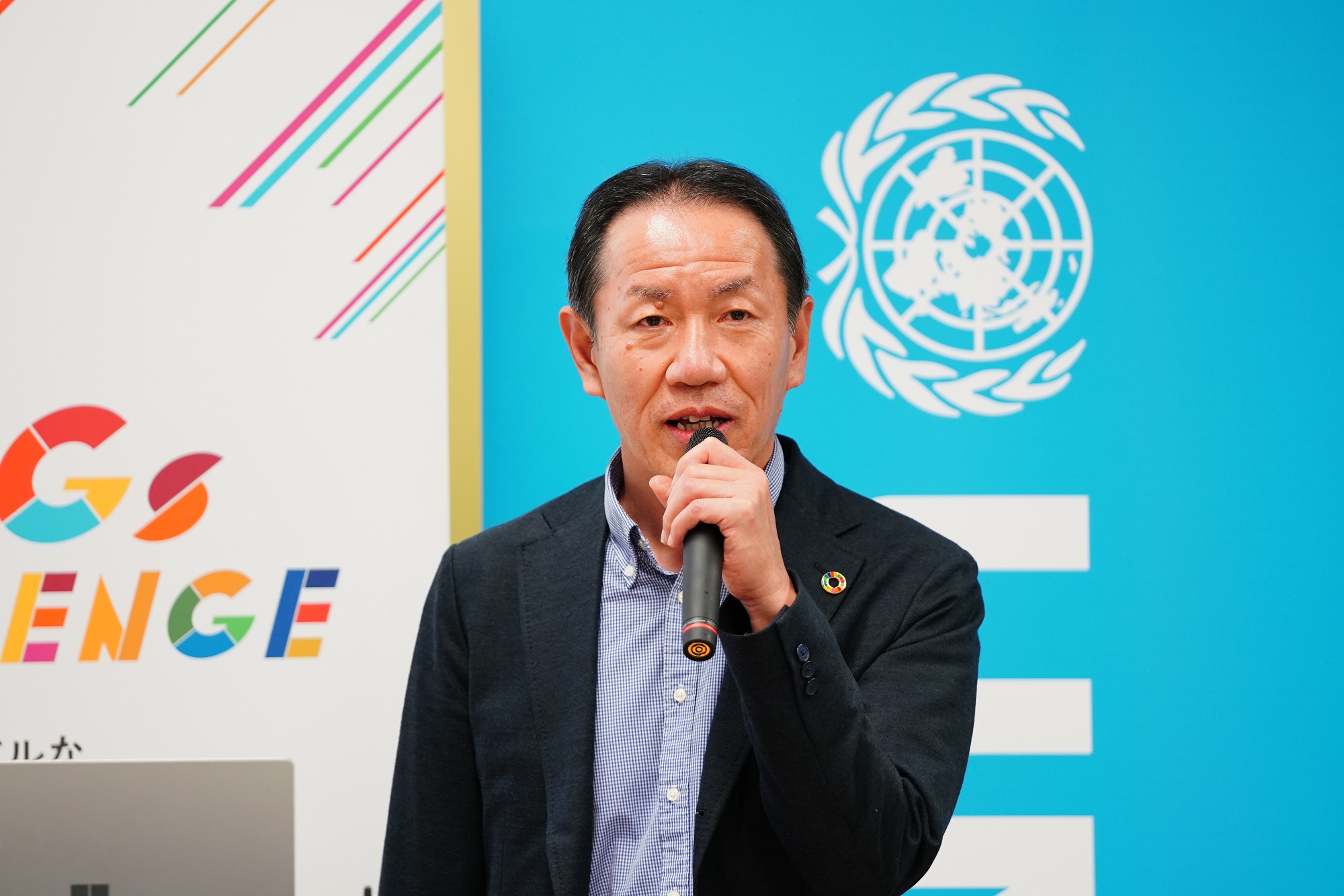 So far we have had different themes yearly. This year we have combined SDGs with the startup funding as a prefecture and region. This event has once again highlighted the importance of SDGs. Also by looking at the presentation it seems like this year's theme has succeeded in emphasizing the importance of SDGs and stepping towards accomplishing them through startups.
Kawasaki Heavy Industries, Ltd.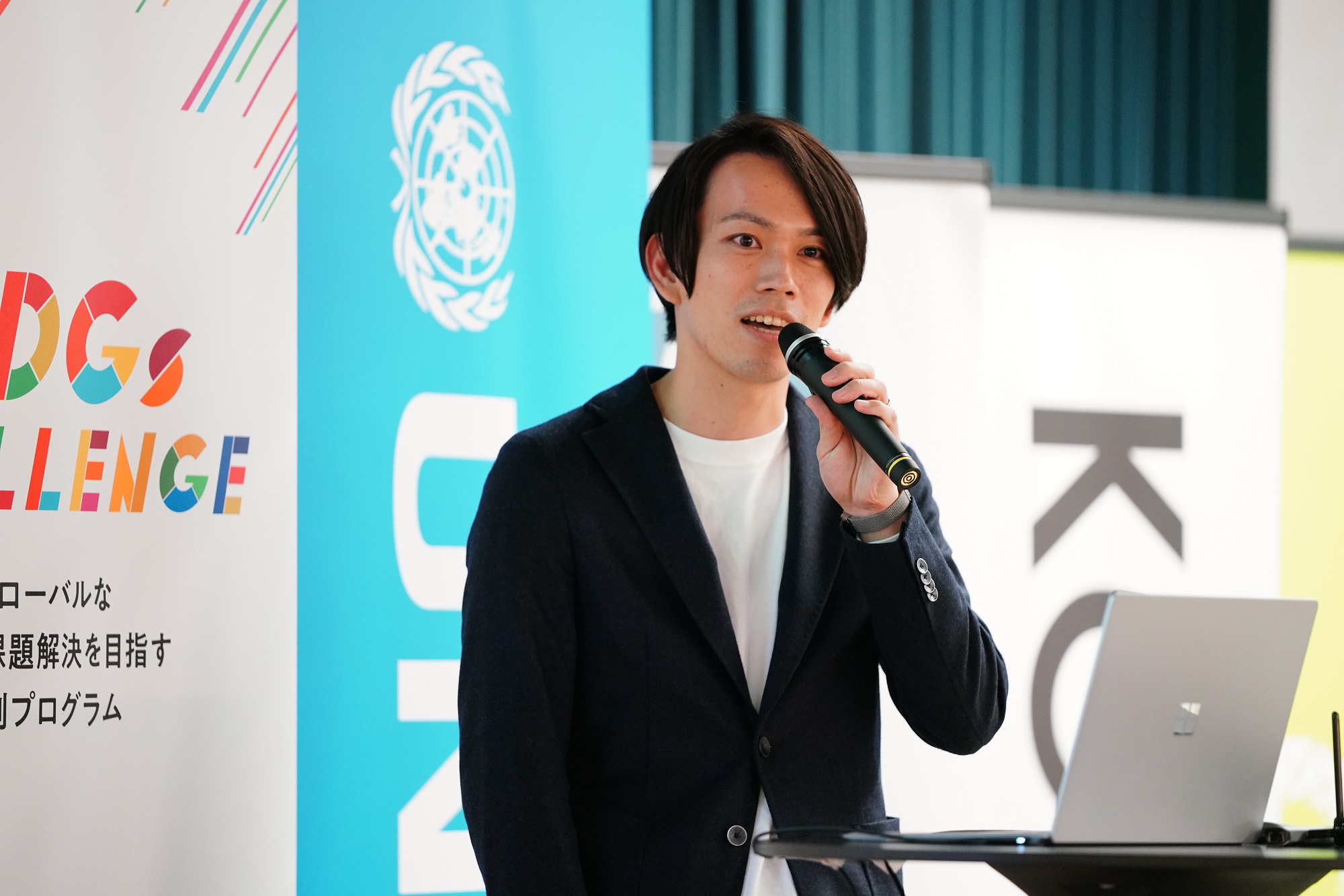 A presentation about "Introduction of Open Innovation Strategy to Solve Social Issues and Enhance Corporate Value"  by Innovation Dep't Mr. Yoshizawa. Kawasaki heavy industries have two focuses in the department for innovation. Those are joint inventions for faster innovation and the development of a long-lasting cooperative industry. Our goal is to come up with a new dependable innovation for the future. Where robotic innovations become part of daily life for everyone including the people who need assistance. We want to achieve these goals by initiating collaborations with startups that want to simplify daily routines as well as be environmentally friendly. Such as the hydrogen boat that is carbon neutral which was introduced in an earlier presentation.
I will introduce a few inventions among many that are going to be available in the near future. These are the inventions we created together with the startups. As the decrease in the workforce is an issue that we all face, robots come in handy in replacing some of the human workers.
I will introduce two robots today. They are a combined development of mobility, aviation and robotics. The first one is an extremely fast large-scale drone. The second one is the auto-delivery robot. This is in a trial session among hospitals today. This cute-faced robot replaces the humans and delivers test kits and samples within the hospital. This robot will help decrease the responsibility of staff alongside nurses and doctors. This way the human staff can focus on more complex responsibilities where human presence is necessary.
Another invention is the development of a map that can be used even underground where the GPS is often inaccurate. This map joint invention works to decrease the defects of the GPS in accuracy with the help of wifi cables and routers everywhere.
Value Creation in Business Development includes a system that made Remote On-site Inspection happen which was a co-creation with "Atlas direction." This inspection is done through the smart glass. I believe that there are many more inventions that can come true together with startups. So please, I welcome everyone to connect with me. Let us cooperate and increase the chances to make many innovations happen. 
Q and A
Is there a chance for you to invest in Africa which is kinda far away from Japan and might not be as profitable?
As a Venture that is a challenging part as we have to profit as well. However, we are open to discussions as our 2030 vision includes tackling social issues on a global scale.
Mitsubishi Electronics Ltd. Dep't of Business innovation, Mr. Minefuji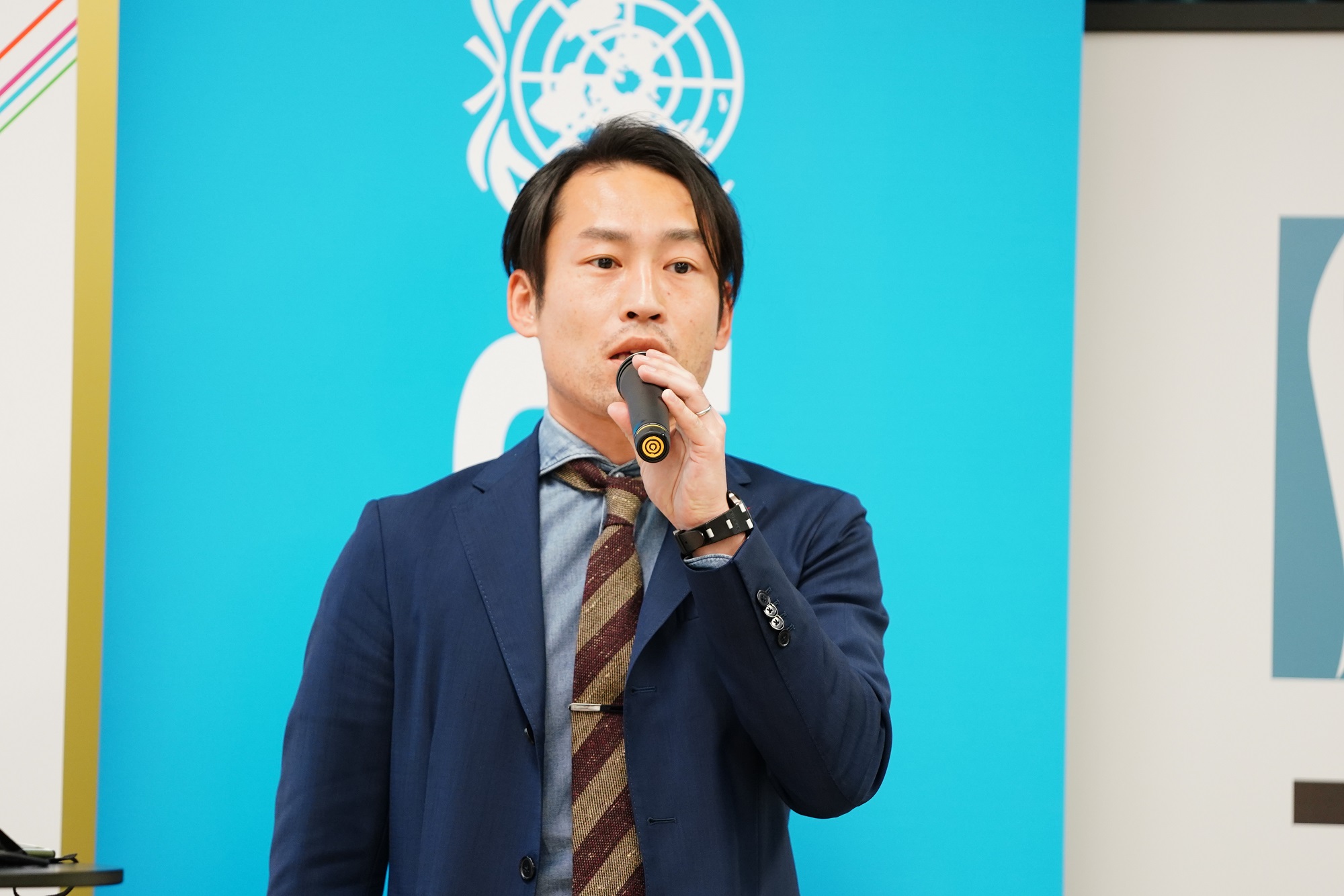 We have a sole department that is called the "Business innovation department called "Me Innovation." In this department, the fund is up to five billion yen over a decade. We have collaborated with "global brain" for creating a Corporate Venture Capital(CVC). Where we aim to transform business models and create new businesses. An example of a successful co-creation is the newly built Zero Emission Building, SUSTIE®.
As the Mitsubishi group, we take pride in our advanced technology. We reached the level of technology because we believed in change with the unlimited possibilities that follow it. This is also why we have established a department solely for investment in startups. We believe it will open new doors which will enhance the advancement of society. Alongside startups, together we aim to integrate our technology for durable solutions.
As it is not a simple know-how to see the odds for collaboration. I invite the startups today to discuss finding the possibilities for joint invention.  We might be able to unlock unimagined unopened doors together. So please feel free to connect with me later in the event. 
ABC Dream Venture Mr.Kitada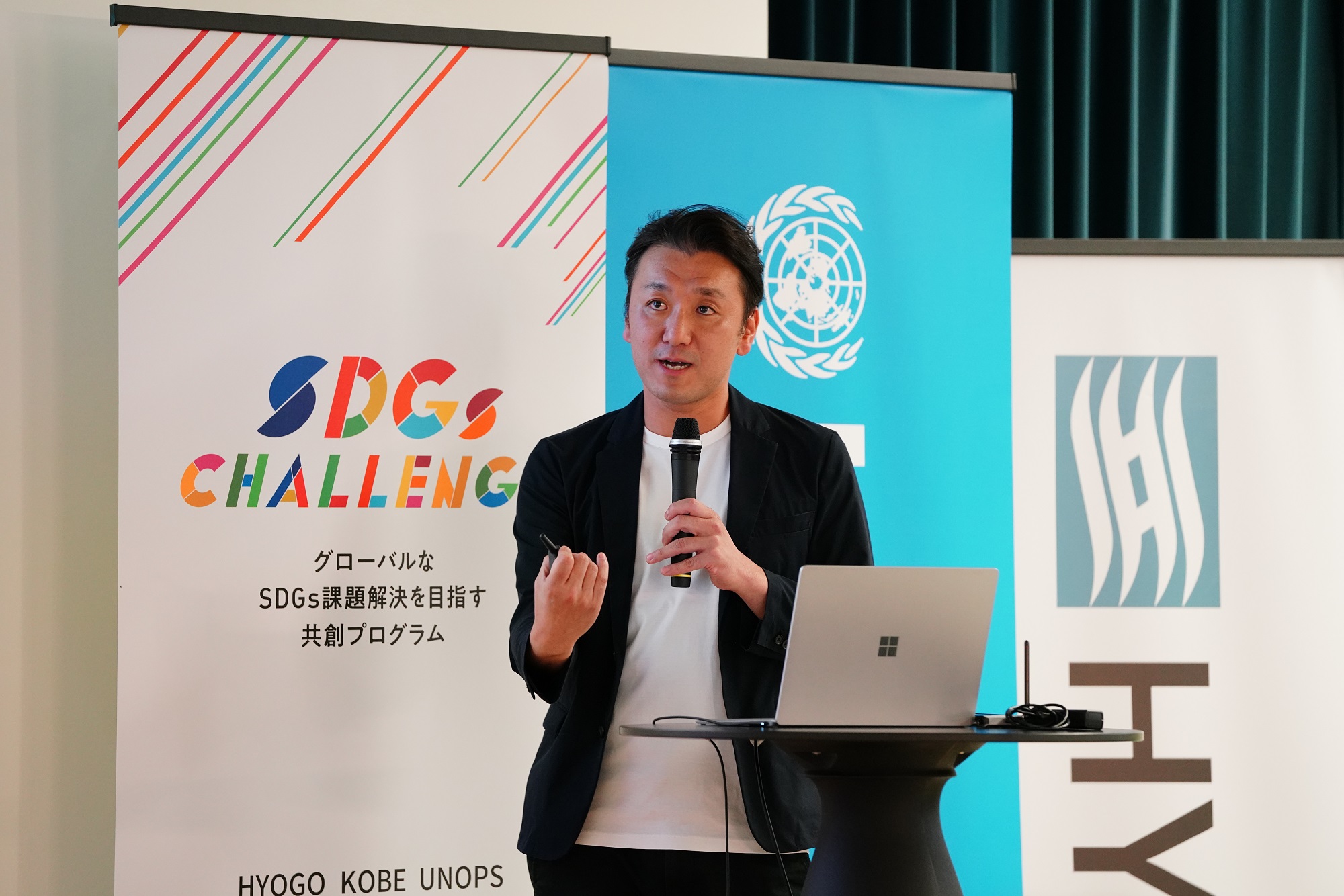 Are you acting upon solving social problems? I am delighted to see many start-ups today, with aims and action strategies toward solving social problems. We fund start-ups that aim to eliminate the social challenges that exist in the Kansai region. We collaborate to accelerate this process through funding. 
We are open to investing in all kinds of startups and not just one. We call this program "Social Introduction Design Fund", with a budget of 300 million yen for fifteen years. Particularly focusing on SDGs number 1,4,5,8,12 and 15, because these are the main components of problems that exist in the Kansai region today. 
We started this department because we want to eliminate the loss of ideas. There are so many business ideas that never make it to the market. We wanted to eliminate the loss of potential business ideas. So we created this department. As we want the ideas to become startups and reality, a stepping stone to tackling social problems. However, we alone can not do so. So I invite the startups to join me. Hand in hand we may accomplish the integration of sustainable solutions into our lifestyle together. Let's collaborate and make ideas come alive.